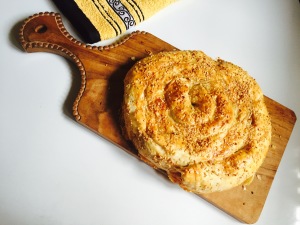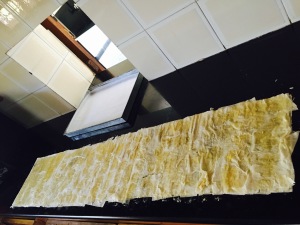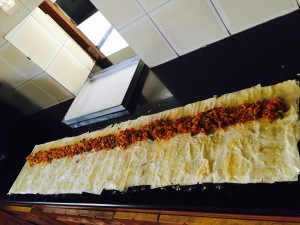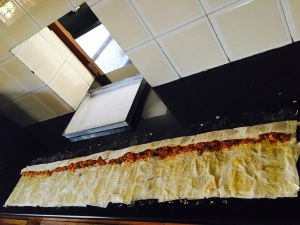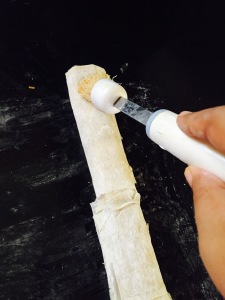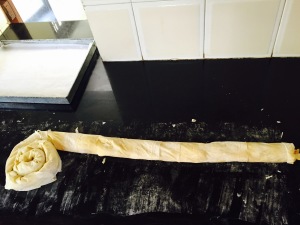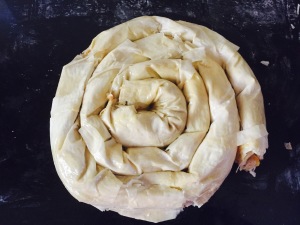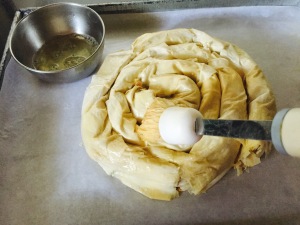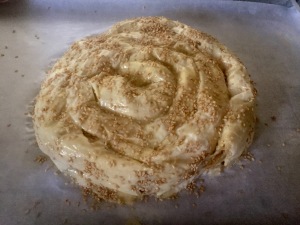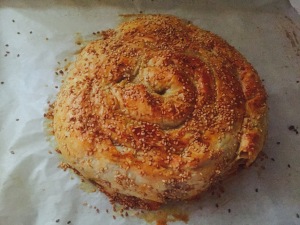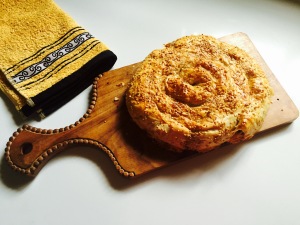 Preparation time : 35 minutes
Cooking time : 35 minutes
Serves : 8- 10 members
Description
Having to send over food items to near and dear ones during the holy month of Ramadan is customary at my place. I always make sure I send over dishes that will entertain the concerned family the right way. Hubby dear is particular about such things and makes sure to check on what goes to which cousin and relatives home. Having to do this year after year . At times I get lost with out of the box dishes. I had to dig into my food locker ( that's stored in my mind with any food that interests me ). Out of a sudden this dish just popped out from my mind. I remember watching it on the television seeing an old grand ma making this so artistically and patiently in Morocco. Well she made the phyllo pastry from scratch but I used ready made ones . Made it and my, my .. I just fell in love with the dish totally. While baking it, the entire house was aromatic with the dishes scent. But I could not taste the final product as it had to be sent as it is to a cousins place. Waited for their verdict and it was all praises. I was curious about the taste and all they had to say was, it tasted similar to our bakery puffs but crisper and moist. Can't wait to make it again and get to taste it as well.
Ingredients for the filling
| Ingredients | Quantity |
| --- | --- |
| Chicken or meat mince | boiled 1/4 kg |
| Ginger garlic paste | 1/8 teaspoon each |
| Salt | to taste |
| Turmeric powder | 1/4 teaspoon |
| Onions | 5 big chopped |
| Green chillies | 4 chopped |
| Mixed vegetables | carrots , beans , cabbage , green peas chopped and boiled in water with salt - 3 cups |
| Mint leaves | few |
| Coriander leaves | one hand chopped |
| Pepper powder | to taste |
| Red chilli flakes | to taste |
| Oil | 2 tablespoons |
| Lime juice | 1/4 teaspoon juice |
Method for  filling
Heat oil in a non stick pan. Add onions and fry to translucent.
Add green chilies, boiled chicken or minced meat, boiled chopped mixed vegetables, mint leaves, coriander leaves, salt, chilli flakes and pepper to taste.
Mix well and lower the flame and keep stirring for 3 minutes letting all the flavours infuse together.
Remove from heat, squeeze lime. Mix well, cool and set aside.
Other ingredients
| Ingredients | Quantity |
| --- | --- |
| Filo pastry | 1 packet ( you can use Spring roll sheets instead ) |
| Butter | 1/4 cup melted |
| White sesame seeds | 1 tablespoon |
| Egg white | of 1 egg |
| Water | 1/4 teaspoon |
How to assemble
Preheat oven to 180 degree Celsius. Line a baking tray with butter paper or foil paper.
Over a clean working kitchen counter, lay out three phyllo pastry sheets end to end, slightly over lapping to create one long rectangle of pastry.
Brush with melted. Repeat the same twice creating three layers of butter brushed phyllo sheets.
Arrange the cooled filling mixture in a long line leaving one inch space above.
Fold the phyllo sheets above the filling line over the filling and roll tightly but gently to get a long log.
Don't worry if the pastry breaks as rolling, just go ahead as it gets tucked in.
Roll the filled log into a spiral – coil disc shape. Place the spiral – coil disc over the lined, greased baking tray.
Brush beaten egg white over. Sprinkle sesame seeds.
Bake for 20 – 30 minutes until golden and crisp. Serve warm.