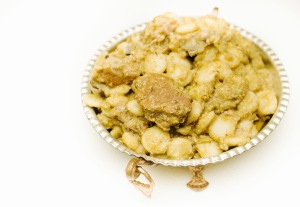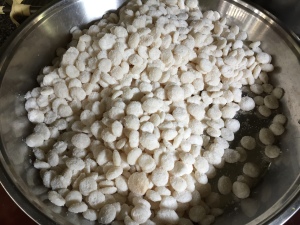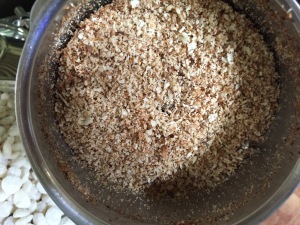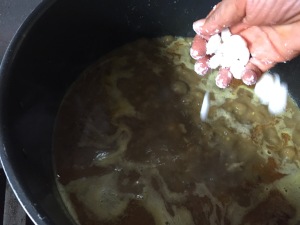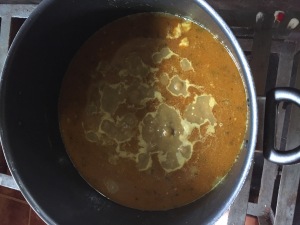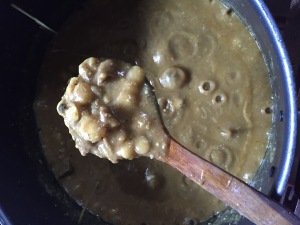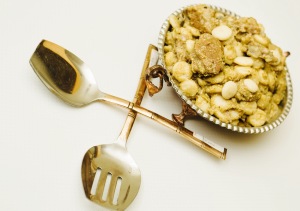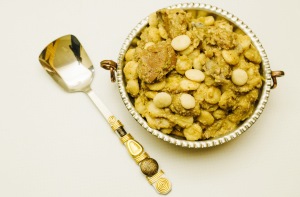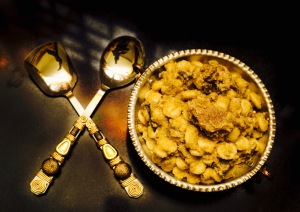 Preparation Time : 45 minutes
Cooking Time : 40 minutes
Serving : 10 members
Description
Thikkadi . An authentic one pot dish very own to the ravuthar community of the northern districts of Tamil Nadu . The southern districts make a similar dish called takkadi but the flour used is different and the texture and taste also differs . At home there is always a big  debate about which of theses two dishes tastes better .  This was one among the first dishes as a kid , I remember helping my grand mother to cook . All the kids were given each a ball of dough and asked to make thikkadis out of it . We cousins used to sit in circle with a huge plate ( thala ) placed in the Center and have a competition on who finishes first on rolling the thikkadis . My grand mother ( dads mom balkees perima ) used to make it in a huge vessel in a fire wood stove top mainly to be sent over to her married daughter's homes . i wish you all could smell the fragrant Thikkadi simmering away with the smokiness of the fire wood . I love old school cooking . This dish may require a little effort but that makes the dish all the more worth while . I am on a mission to share lesser known family classic dishes to keep ravuthar cuisine alive . The real test of ravuthar food lies in how sleepy it makes you after you have it . The sleepier you feel , the better the dish . So happy eating and sleeping to all .
Ingredients
| Ingredients | Quantity |
| --- | --- |
| Rice flour ( the rice flour that we use to make iddiappam 's ) | 1 cup |
| Salt | taste |
| Water | 1 1/4 cup |
Method
Boil Water and salt . When it is bubbling hot add rice flour . Place a wooden ladle in the Center of the rice flour and water . Cover it with a lid and Let it stand for 2 minutes in low flame .
Mix well, using the wooden ladle to combine the rice flour with the salted water making sure no lumps are formed . Remove from heat .
Use your hands to knead it to a dough like we do for idiyappam. The dough will be boiling hot , dip your hands in to a bowl of cold water to avoid the heat felt on your hands while kneading once in a while .
Make small balls out of the dough and flatten them like gems chocolate .rub your hands with rice flour powder once in a while to avoid the dough sticking on to your palms .
Usually I follow till this step , sprinkle some rice flour to the Thikkadi / dumplings and store them in a plastic cover kept in an air tight container and keep it in the refrigerator .
( I do this the previous day as at home every one likes to have Thikkadi for breakfast ) .
Ingredients for mutton gravy 
| Ingredients | Quantity |
| --- | --- |
| Mutton | 1/2 kg |
| Small onion chopped | 1 hand full |
| Green chillies slit | 10 or to taste |
| Cinnamon | 1 inch piece |
| Cloves | 2 |
| Cumin seeds | 1 teaspoon |
| Fenugreek seeds | 1/2 teaspoon |
| Coriander powder | 3 tablespoons |
| Oil | 3 tablespoons |
| Salt | taste |
Ingredients To fry and grind
| Ingredients | Quantity |
| --- | --- |
| Coconut grated | 1 cup |
| Cumin seeds | 1 tablespoon |
| Coconut oil | 2 tablespoons |
Method
Heat the coconut oil and fry the cumin seeds and grated coconut to a golden brown colour until you get a nice aroma of the fried coconut .
Cool and grind to a corse powder with out using water and  Set aside .
Method for mutton gravy
Heat oil in a pressure cooker . Add cinnamon , cloves , fenugreek seeds and cumin seeds .
Once the fenugreek seeds crackle , top with small onions and fry to brown .
Add the mutton , green chillies , coriander powder and salt to taste . Toss well and sauté for 5 minutes until the colour of the meat changes .
Pour 6 cups of water to cook the meat and pressure cook for 3 whistles or until the meat is cooked through .taste and adjust the mutton gravy .
How to proceed
Bring the cooked meat watery gravy to boil . ( Make sure you have enough gravy to cook the thikkadi / dumplings , add more water in case you need more gravy .then season the gravy ) Add 10 Thikkadi / dumplings at a time to the mutton gravy .
In 5-8 minutes the Thikkadi / dumplings will float on top .
Do the same until all the Thikkadi / dumplings are over . Once all the Thikkadi / dumplings are cooked and floats on top add the ground coconut coarse powder and mix well . Taste
And adjust . Serve hot .