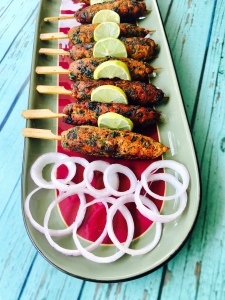 Preparation time : 1 hour and 10 minutes
Cooking time      : 3-5 minutes
Serves                : 6 members
Description
Any time , any where kebabs bring out the carnivorous devil in me out. I just go head over heels hogging them with no shame. The seek kebab stands first on the list. I just love the smoky smell that fills the air and to see how the kebabs take shape with its crispy exterior and moist inside with in minutes time. I remember on my first trip to Delhi at the karim's hotel opposite to the jama masjid in old Delhi. How I could not get into the hotel as the kebab counters in the front were so inviting not letting me get in. Hubby dear gave a stare signalling that it's over crowed we have to rush in to get a place to sit. I make sure to try so many versions of the seek kebab. This version is a hereby one with loads of fresh coriander leaves used. As always it vanished with in seconds on the table and followed with any left overs being asked for dinner which is the best sign of proof for a perfectly done dish. This kebab can be done over a hot griddle with out being grilled in an oven which makes it even more home friendly for us home chefs to excel with restaurant style dishes to be made at our home kitchens. Let's all cook, make memories through food for life and share what we know to our next generation to enjoy as we did.
Ingredients
| Ingredients | Quantity |
| --- | --- |
| Boneless chicken mince | 1/2 kg |
| Red chilly powder | 2 teaspoons |
| Turmeric powder | 1/4 teaspoon |
| Ginger and garlic paste | 1 teaspoon |
| Almond powder | 2 tablespoons |
| Garam masala powder | 1/2 teaspoon |
| Lemon juice | of one lemon |
| Grated Parmesan cheese | 1 tablespoon |
| Coriander leaves | 1 cup Chopped |
| Saffron strands | a pinch |
| Egg | 1 whole |
| Oil | to brush |
| Salt | to taste |
| Long wooden tooth prick | as needed |
Method
Grind the cleaned chicken mince to a smooth paste with out adding water.
Add all the other ingredients to the ground chicken mince except for saffron, oil and wooden skewers. Mix well. Check seasoning and keep aside for one hour to Marinate.
Make lemon size equal balls out of the chicken mince mixture. With the help of wet hands roll the mince ball over the wooden tooth prick evenly. Do the same to all the mince and tooth prick.
Mix saffron with oil to brush. Heat a iron griddle and grease with oil. Pan fry the kebabs rolling it over on all sides and cook to done until you get a crisp and golden crust in medium heat, brushing saffron oil on all sides.
Do the same to all the kebabs. Serve hot with salad, mint chutney and lemon wedges.
Notes :
You can bake these kebabs in a Preheated oven at 180 degrees Celsius for 20 -30 minutes. Remember to soak the wooden tooth prick in water for two hours before using to roll the chicken mince in this case.