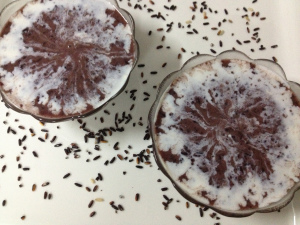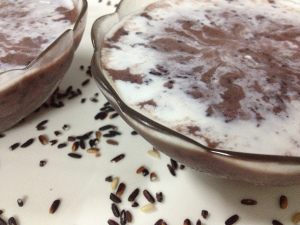 Preparation Time : 40 minutes
Cooking Time :  25-30 minutes
Serving : 5-6 members
Description
Malaysian black rice pudding or authentically known as bubur pulut hitam  in Malaysia and neighbouring countries in Singapore and Thailand . The first time I heard about this pudding ( it's more like a thick porridge actually ) was through my aunt Shameem who was invited over for lunch to a friends place for Diwali where they served this black beauty to her .  It's not an easy job to get a good review from my aunt so this made sure that this mighty pudding is a sure must try . I did take note of the recipe from the telly through the hit series of food safari . Seeing the host of this show Maeve O'Meara go "umm ummm " eating this pudding Was another intimation that made sure this one recipe is for keeps as this is her signal of saying the dish is too good to resist . Now the next problem is getting black rice to prepare this sweet Devine dish . Any out of station trip is not complete with out a gourmet shopping done for me . Like wise on a trip to chennai was going through the stuff in a gourmet store ( amma nana  ) and to was delighted to see black rice . Grabbed two packets and the first thing I did when back home was to cook the black pudding as all the other ingredients required are every day cupboard friendly  at home . As cooking half way , I was like how can rice with sugar and coconut milk taste really good . There's no ghee , nuts or any thing to be added as well . But my doubts were put to shame as this black rice has an aromatic flavour that just soothes your taste buds and soul together . The colour does put you off but once you dig in , it's hard to resist yourself from another  helping . As usual I ended up gulping the entire lot with just one bowl had by hubby dear . ( shameless me :-)) ) after nearly a year or so after my try over this black rice pudding . We were invited to my hubbies niece engagement in a place called sivagankai in tamilnadu . My first time to that place and I was excited to see the cultural and culinary difference there . We were served lunch and the first thing served on the plantain leaf was the Malaysian black rice pudding . My eyes popped  out literarily  as I just could not under stand how did this dish end up in this corner of the world . Later to my surprise I was informed when asked that this is very famous dish here in kaaraikudi ( a neighbouring town )  where most of the chettiar community people of that region are linked to Malaysia through  business . On my way back home this did bring a board smile to me thinking a dish that has travelled all the  way  from Malaysia to kaaraikudi a decade ago has just caught your attention a few months ago . Well  culinary knowledge is a never ending journey and that's why I guess I am in love with it.
Bubur pulut hitam
Ingredients
| Ingredients | Quantity |
| --- | --- |
| black rice | 1 cup |
| Water | 3 cups |
| Salt | 1/4 teaspoon |
| sugar | 1/2 cup or more to taste |
| Thick coconut milk | 2 cups |
Method
Wash and soak rice in 3 cups of water for 30 minutes . Add 1/4 teaspoon salt and pressure cook for 2-3 whistles .( the authentic way is to slow cook in a heavy bottomed pan with a lid for 3-4 hours ) rice will be cooked but still wet .
Stir in sugar and 1 1/2 cups coconut milk and bring to a boil over high heat, then reduce heat to low and simmer, uncovered, stirring occasionally, until mixture is thick and rice is tender but still slightly chewy for about 10 minutes.
Remove from heat and cool to warm or room temperature . Just before serving, stir pudding . Serve in individual pudding bowls topped with a good drizzle of remaining coconut milk on top .