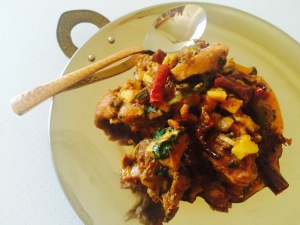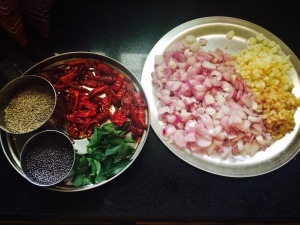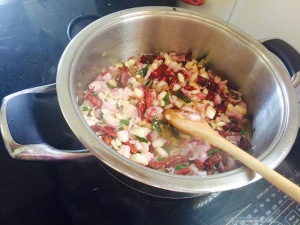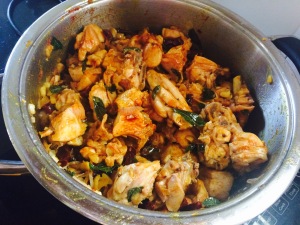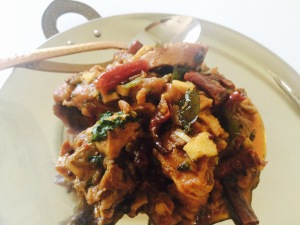 Preparation time : 15 minutes
Cooking time       : 20 minutes
Serves                 : 4 members
Description
When you have both your children coming home to you after a long while, the excitement level is way too much and gets you confused in setting a good menu to be cooked. My elder one Anisha being a vegetarian and my second one Afzar a hard core non – vegetarian. The challenge of a balanced spread on the table will sure be judged by them. So keeping that in mind, I had planned a menu accordingly. Now a chicken dish for my carnivores boy. He loves any thing that is done in south indian style. I wanted to surprise him with a new dish and the one dish that came to my mind was Palli palayam chicken . A typical Tamil style chicken that sure will be approved by him. Got the recipe from one of my cousin sisters and started. As cooking, my mind went back to days of packing food in lunch boxes for my loved ones to school. I made sure they had turns every alternative day to select what they wanted. The long face both of them used to have when it was not their day of selected food packed. Good old days … Well today all I wanted was a beaming smiles on the faces of my beloved kids and this chicken recipe sure did it as my fussy vegetarian girl also enjoyed the gravy part of the chicken dish. My mission accomplished. Now typing all this, my heart bleeds with missing both my kids. I know this sounds so cliche but only mothers know the vacuum felt with in when her children are not around.
| Ingredients | Quantity |
| --- | --- |
| Chicken | 1/2 kg cut into medium sized pieces with bones |
| Ginger | 1 inch piece chopped |
| Garlic | 6 flakes chopped |
| Small onion | 2 hands full chopped |
| Dry red chillies | 15 , each torn into three or to taste |
| Curry leaves | few |
| Mustard seeds | 1/4 teaspoon |
| Cumin seeds | 1/4 teaspoon |
| Sesame seed oil | 2 tablespoons |
| Turmeric powder | 1/4 teaspoon |
| Salt | to taste |
| Grated Coconut | 2 teaspoons ( optional - I didn't use it here ) |
Method
Heat oil in a wide vessel. Add mustard seeds and cumin seeds. Once it crackle's, top with torn dry red chillies and curry leaves.
Sauté until the dry red chillies turn crisp.
Add ginger, garlic and small onions. Sauté to translucent.
Top with the cleaned chicken, turmeric powder and salt to taste. Sauté in medium heat until the colour of the chicken changes.
Add little water and cook until chicken is done.
Garnish with chopped coriander leaves and grated coconut. serve hot.