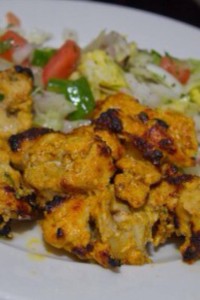 Preparation Time : 20 minutes + 8 hours or 2 days marination time
Cooking Time : 15 – 20 minutes
Serving : 5 members
Description
Saffron chicken Kabab . A light , moist soft melt in the mouth Kabab which takes you on a zesty flavour trip . It will be slurped away in minutes .i love the sunshine yellow that comes from the saffron used .  Be prepared to let yourself be seduced  by pure captivation . my mind is taking me to an incident related to grilling now . My parents and daughter had gone on a holiday to Rajasthan once . My mom and my daughter being shopaholics , brought entire Rajasthan to Coimbatore . One among the things was a tandoori stove top cooker that they brought for me as well ( so in total it's 3 pieces ).  they had couriered it from Rajasthan along with other things . The tandoor cooker was all out of shape by the time it reached Coimbatore . Then got it back repaired in a local shop . A few days back , My daughter wanting an electric egg beater went shopping at my place ( tirunelveli ) . While the egg beater was being billed , we both were just gazing around the shop . And guess what we spotted ???? They had the same  stove top tandoor cooker . Which was just a few bucks more than what they got in Rajasthan . My gal felt so duped . I remember initially at my place most of the things from food items to every thing had to be sourced from else where . 85 % of things are available here now a days . We nellaiat's are happily making up for the lost time , thanks to things easily available here  :-))
For the chicken
| Ingredients | Quantity |
| --- | --- |
| ground saffron | 1 teaspoon dissolved in 2 tablespoons hot water |
| fresh lime juice | 2 teaspoons |
| Turmeric powder | 1/4 teaspoon |
| oil | 2 tablespoons |
| large onions, peeled and cubed | 2 |
| Capsicum | 2 cubed , ( can use any colour red , yellow , green or all the three ) |
| Tomatoes | 5 medium sized cut into 1/2 |
| zest of lime | 2 tablespoons |
| yogurt | 2 cups |
| salt | to taste |
| freshly ground black pepper | 2 teaspoons |
| Chicken | 1 kg |
| garlic, peeled, and crushed | 2 cloves |
For the baste
| Ingredients | Quantity |
| --- | --- |
| lime juice | 1 lime |
| butter melted | 1/4 cup |
| salt | to taste |
| freshly ground black pepper | 1/2 teaspoon |
To serve
| Ingredients | Quantity |
| --- | --- |
| Lime wedges | As needed |
| Chopped coriander leaves | As needed |
Method
In a large bowl, combine half the saffron water and the lime juice, oil, onions, capsicums , garlic, orange zest, yogurt, salt, and pepper. Beat well with a fork. Add the pieces of chicken and toss well with marinade.
Cover and marinate for at least 8 hours or up to 2 days in the refrigerator. Turn the chicken twice during this period.
Start a bed of charcoal 30 minutes before you want to cook and let it burn until the coals glow evenly. Otherwise, preheat the oven 180 degree Celsius .
Skewer the tomatoes.
Spear wings, breasts, and legs onto different skewers (they require different cooking times).
For the baste
Add the juice of 1 lime and the remaining saffron water to the melted butter. Add 1/2 teaspoon salt and 1/2 teaspoon pepper. Mix well and set aside.
Paint the tomato and chicken with the basting mixture. Grill the chicken and tomatoes 8 to 15 minutes, until done.
Turn frequently and baste occasionally. The chicken is done when the juice that runs out is yellow rather than pink.serve hot with a final basting over the grilled chicken pieces .
Garnish  with lime wedges and coriander leaves .
Make sure you grill the chicken to get a crisp crust and a moist inside .
Serve the kebabs with a salad which is light and fresh with out lemon dressing as the chicken has a lot of lime flavour already
There is no need for dips or sauces to be accompanied