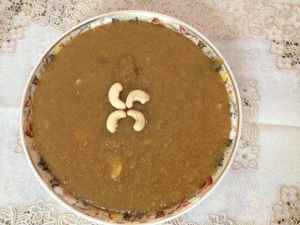 Preparation Time : 20 minutes
Cooking Time :20-  25 minutes
Serving : 10 -12 members
Description
Thulli . A simple dessert very own to the ravuthar ( tamil speaking muslim ) community of the Salem region in Tamil Nadu . A must on the break fast table for eid ul azha or bakrid usually made in large quantities mainly to be shared with near and dear ones with staples thats adapted to suit the brew available .( I guess thats why the measurements mentioned in this recipe is also of large quantity ) . This recipe is from my friend Fathimas mother – in – law Mehar ammas patiently preserved hand written smudged recipes from her cook book containing hundreds of our family recipes neatly written in her version of Tamil ( Mehar amma is a Malyali married to basha mama who is a tamilian )  . This cook book of her's  is a precious treasured family hair-loom , more important to me than any silk Saree , diamond or gold that I may one day inherit .  This dessert is just another version of the kesari that is served through out India in various names . Here they have used wheat semolina instead of the white regular semolina and the jaggery syrup is added for sweetness instead of sugar . The dessert looks and sounds less felicitous but one spoon gulped in , I assure you peeps no way you can stop with one spoon full as they offer insights into the communities that devised them yielding secrets about people's past .
Ingredients
| Ingredients | Quantity |
| --- | --- |
| Wheat semolina | 1 litter |
| Ghee | 1 glass |
| Cashew nuts | one hand |
| Raisins | one hand full |
| Water | 1 1/2 litter |
| Jaggery | 1 kg ( heat with little water , dissolve and strain ) |
| Cinnamon | 1 inch piece two |
| Salt | a pinch |
| Cloves | 2 |
Method
Heat ghee in a non – stick sauce pan . Add cloves , cinnamon , cashew nuts and raisins . When cashew nuts are light brown add water and a pinch of salt .
Bring to boil . Add the wheat semolina and stir in little by little as we do for upma . Once all the semolina is mixed in and boiled nicely . ( Takes about 10 minutes ) Add the brown sugar .
Mix well , keep stirring in low flame till it gets to a semi thick gooey paste consistency . ( like for kesari ) pour into desired bowl ,
Set aside for 10 minutes , so that the thulli gets set and serve hot or at room temperature .