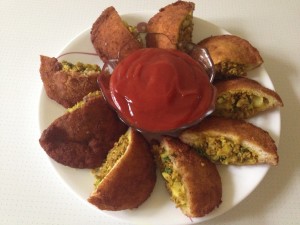 Preparation Time : 30 minutes

Cooking Time : 20 – 25 minutes

Serving : 10 member
Description
Pita bread pockets with lamb filling . I got to see a picture of this dish in a foodie group which was posted by my fellow home chef mubeen Sulthana . The dish looked so different and wondered how the pita bread pockets were made as they looked perfect . As usual recipe requests were poured and the recipe was posted but only of the filling , not the pita bread pockets . After a while the pita bread pocket recipe was also posted . Saved the recipe and gave it a try one fine morning . Time consuming but good things come to those who wait isn't it ? The way the  bread just popped up and puffed  floating over the hot oil , I felt like a child in a candy store filled with so much joy and excitement . The genius tricks and twists  that we home chef's posses in our own ways is amazing and any day far better than a cook book recipe or a recipe googled . We inspire and share the little we know with one another helping each of us improve and widen our culinary horizon . With all credits to mubeen for this recipe , I have elaborated the original recipe a lot more so it's easy for you people to follow .   Happy cooking and snacking to all .
Ingredients
| Ingedients | Quantity |
| --- | --- |
| Sandwich bread | 16 slices |
| Flour | 1/2 cup |
| Oil | to deep fry |
| Egg | 2 beaten |
| Salt + pepper | to taste |
| Bread crumbs | 2 cups |
Method
Steam bread slices over a stove top or in a microwave oven for 10 seconds .
Remove and dust with flour and roll the bread slices with the help of a rolling pin to flatten the bread slices .
Cut each flattened bread slice into circles with the help of a round mould cutter .Take two cut round bread slices ,
place one over the other and brush the edges of the bread slices with water .Press the wet edges together and seal the edges firmly .
Do the same to all the bread slices .Beat eggs with salt and pepper to taste .
Dip each sealed round into the beaten egg , remove immediately and toss over the bread crumbs making sure the bread crumbs are coated well all over on both sides .
Do the same with all the sealed bread rounds .Heat oil to deep fry and fry the bread rounds to a golden brown colour .
The rounds puff up like poorie's . Drain and cool completely .Cut each fried round into half to get a semi circle pocket with the help of a sharp knife .
The pita bread pockets are ready .
Ingredients For the filling
| Ingredients | Quantity |
| --- | --- |
| Minced lamb | ¼ kg |
| 2 medium sized onion | 2 chopped |
| Chilly powder | 1 teaspoon |
| Pepper powder | 1/4 teaspoon |
| Cumin powder | 1/4 teaspoon |
| Turmeric powder | 1/4 teaspoon |
| Ginger and garlic paste | 1/ 4 teaspoon each |
| Coriander leaves | chopped few |
Method for filling
In a pressure cooker put the minced meat and the rest of the spices .let it cook up to two whistles .heat oil , sauté  the chopped onions to translucent .
Add the cooked minced meat and cook to dry .Taste and adjust seasoning .
Garnish  with coriander leaves .Cool completely and set aside .
How to proceed 
Fill each bread pita pocket with  generous amount of filling and serve with tomato ketchup ,mayonnaise or any dip of your choice .
Note
Make the filling and pita  bread circle until dipping into beaten egg and coating in bread crumbs all around ahead for ultimate convenience .
Deep fry the Pita   bread circles just before serving , cut into 1/2 , fill and serve .
You can use any filling of your choice . Vegetarians can substitute with a vegetable filling , panner filling or soya chunks filling .