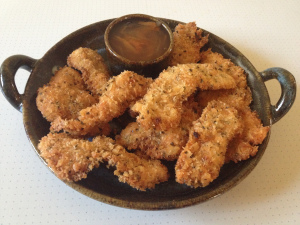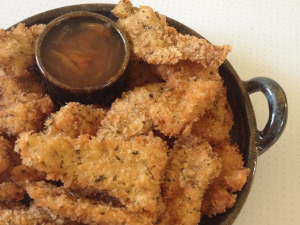 Preparation Time : 25 minutes + 3 hours or more for marination .
Cooking Time : 3-4 minutes for each batch deep fried .
Serving : 3-4 members
Description
I always end up cooking  any dish which transforms to be really spicy and leads to being dominated with our Indian flavours . So for a change forced myself towards a simple and a bit bland dish wanting the protein to speak for itself . The final out come with few ingredients used transformed into  a chicken fry packed with subtle , delicate flavours . I did give a try following the same recipe with basa fish and served it with a white sauce . It did work then too with an exotic blend to suit all kinds of tastes . We at home ,  celebrated of this moorish  starter that was fragrantly herby . You can follow the recipe up to coating with the panco bread crumbs and refrigerate them and deep fry to a golden brown colour when required . A practical way to save things for lazy days .  This recipe falls under the every one can cook category specially beginners . Well easy is beautiful but when it's along with fast , clever , easy , save time , genius and a quick fix recipe . What more do you need !!!!
Ingredients
| Ingredients | Quantity |
| --- | --- |
| Bone less chicken | 1/4 kg cut to flat thin strips |
| Red chilli flakes | to taste |
| Garlic crushed | 2 flakes |
| Pepper + salt | to taste |
| Lime juice | 1/2 a squeeze |
| Panco bread crumbs | 1 1/2 cups |
| Dried basil | 1/2 teaspoon |
| Oregano | 1/2 teaspoon |
| Egg | 1 beaten with salt + pepper to taste |
Method
Marinate cleaned chicken strips with red chilli flakes , salt , pepper , crushed garlic and line juice for 3 hours or more .
Mix panco bread crumbs with dried oregano and basil . Place the panco crumbs over a flat plate . Dip marinated chicken strips into beaten egg and coat over the panic bread crumbs making sure it's coated well all around .
Do the same to all the chicken strips . Heat oil to medium heat to deep fry . Deep fry the chicken strips in batches for 3-4 minutes to a golden colour and crisp . Drain over absorbent paper and serve hot with any sauce of choice .
Notes
You can do the same with fish and prawns .
Vegetarians can do the same with paneer , tofu  , baby corn and potatoes but cut these into finger size instead