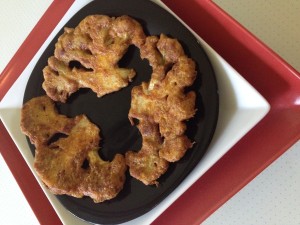 Preparation Time : 40 minutes
Cooking Time : 3 minutes
Serving: 4 members
Description
This is a recipe I learnt from my mother – in – law which is a regular in the lunch table every week once at least . Cauliflower being one of my favourite vegetables , I was head over heels when I first tasted this dish . Thinking it might be a pains taking job to execute this dish as a new bride , when asked what I wanted would never mention this dish ( nor any other as I was dead nervous as a new bride , guess all of us were the same ).  As days passed by and I was getting more comfortable with the place , food , language and people around , I would take note of what ever was being cooked in the kitchen as I was just let to chop vegetables like a sue chef in a restaurant kitchen . I was awe struck with this simple sensational recipe bursting with mouth watering flavours .  Then slowly as I got more confident in the kitchen , even before my mother – in – law would suggest what's to be done for lunch , I would have chopped , cooked and placed it on the dining table . This was one among the very few dishes that I used to make very often as a new bride as I was ( and am ) a keen cook who can't resist trying out a recipe I particularly love as soon I discover it . At home we usually make this dish with cauliflower flower lets but I have showcased the same in a modern feature . The idea of life of tree was adapted from chef vikkas Kanna . I was mad at myself as from eleven years my heart , soul , thought  and every bit in me is all about food , food and food . Then how come my mind didn't get the idea to cut a cauliflower in such a lovely pattern . Umm well that's the difference between a chef and a home cook isn't it :-)) .
Ingredients
| Ingredients | Quantity |
| --- | --- |
| Cauliflower | 1 medium sized whole or 2 cups flower lets |
| Chilli powder | 1/2 teaspoon |
| Turmeric powder | 1/4 teaspoon |
| Salt | to taste |
| Eggs | 2 |
| Pepper powder | to taste |
| Oil | to fry |
Method
Boil water with little salt . Immerse a whole cauliflower into the boiling water for 5 minutes to get worms out . Remove and cool .
Cut the whole cauliflower from the middle to 1/4 inch thick slice to get a tree patterned slice . Keep doing the same to get more slices .  ( be careful as the blanched whole cauliflower tends to break up in between )
Marinate the cauliflower tree slices with chilli powder , turmeric powder and salt to taste for 30 minutes .
Beat eggs with salt and pepper powder to taste . Place in a flat shallow plate so it's easy to dip the cauliflower tree in it .
Beat oil to shallow fry . Dip the cauliflower tree in to the beaten egg mixture and gently drop into the medium hot oil . Fry to a golden brown color on both sides . Drain and serve hot as it is with out any dips or sauce .
Do the same with the other cauliflower trees .
Notes
I usually use cauliflower flower lets and do the same but deep fry instead of swallow frying .
Can do until the marination part ahead and fry in hot oil just before serving to avoid the eggy smell .
Beat more eggs in case you need more for dipping .
Best served as a starter .