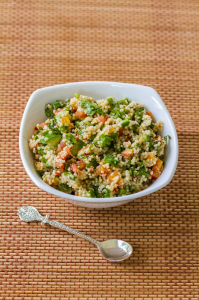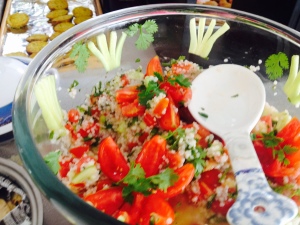 Preparation time : 10 minutes
Cooking time      : 15- 20 minutes
Serves                : 4 members
Recipe source    : Yashu
Description
The second anniversary celebration of sauté, fry n bake. A million doubts in my mind if I will be able to pull this of in style as its not with in my comfort zone (home) but in Coimbatore. Though its where I grew up, the long gap of being else where sure did give me shivers. From how will every one get along, to the spread on the table, to every bit I had imagined it to be like. For all the confusion and cribbing I had with in myself, I felt so much at ease with every one and the entire event. Among the lot present there was yashu who actually had to hit a like to our page as only members of the sauté, fry n bake could attend the anniversary celebrations. This healthy millet tabbouleh salad was brought by her which was the only salad on the table. Very light in taste but filling and healthy. As any thing made with millet's is so in now a days, I saved the recipe for keeps. To my surprise, I get a call from my cousin noorie that very evening asking me if I have any left overs of this salad as she loved it. I made sure to pack her the entire lot that I had in hand. When on diet (that's what I say but fail royally always) this salad is had as a meal very often and every time yashu pops up in my mind. I have been wanting to catch up with her but it just did not happen. I Hope at least this post does it for me.
| Ingredients | Quantity |
| --- | --- |
| Millet | 175 grams |
| Water | 600 ml |
| Tomatoes | 3 large |
| Cucumber | 1 big |
| Spring onions | 3 finely chopped |
| Lemon juice | 1/2 a lime |
| Olive oil | 2 tablespoons |
| Mint leaves | 4 tablespoons |
| Coriander leaves | 4 tablespoons |
| Parsley | 4 tablespoons |
| Salt + pepper | to taste |
Method
Cook millet with water covered in a sauce pan. Bring to boil, then simmer for fifteen minutes and cook. Drain if necessary. Cool the cooked millet completely.
Combine all the ingredients together and mix well. Taste and adjust seasoning.
Decorate and serve.