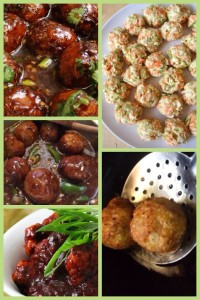 Preparation Time : 35 minute
Cooking Time      : 30 minutes
Serving       : 6 members
Description
Chicken ball manchurian a fabulous stir fry gravy a dish that i had to try out because of my gal ANISHA . I regularly make caulifiower manchrian at home but this was new to me. How much every i cook and experiment . At time there are dishes that i learn and got to know because of my my kids . (maninly my daughter a bundle of fuss when it comes to food) this dish is a riot of textures colours and flavours on a plate . Any thing related to the word ball . My mind goes to cheese balls i was in the 2 nd standard then (1979) just joint boarding school . With every thing from language , friends , food , ambience to surroundings new to me . I was in a fix , Totally felt lost but coped up soon . We had a room called the tuck room where all our snacks from home were kept in a wardrobe locked . We were given our snacks only in the evening . The minute the wardrobe was open , i used to gaze at all the snacks that my friends from the Middle East have . From kitkat , snicker , mars , milky Way …. (the list is end less ) and mainly the mighty cheese balls . Back then we just has cadbury chocolates in india and there was no source of imported items as well . Having no idea about what is this heavenly ball made up of . I used to beg , plead and soap my middle east friends to give me some cheese balls . One outing with my parents searched through out ooty for cheese balls but resulted in disappointment . Now a days you got cheese balls any where and every where but can't eat as you wish because of the calorie count in it . What a pity ????
Ingredients for making the balls
Ingredients

Quantity

Boneless chicken,
minced uncooked
250 grams
Refined flour
½ cup
Ginger Paste
1/4 teaspoon
Garlic Paste
1/4 teaspoon
Cornflour
¼ cup
Carrot grated
1 small
Beans
3 chopped
Cabbage shredded
1/4 cup
Ajinomoto
a pinch ( optional )
Soya Sauce
1 teaspoon
Red Chilli sauce
½ teaspoon
Oil
For deep frying
Salt
To taste
Ingredients for sauce
Ingredients

Quantity

Ginger,finely chopped
1 tablespoons
Garlic,finely chopped
1 tablespoon
Green chilies,finely chopped
2 tablespoons
Soya sauce
2 tablespoons
Red Chilli powder
1/2 teaspoon
Red Chilli sauce
½ teaspoon
White pepper
¾ teaspoon
Sugar
1 teaspoon
Ajinomoto
A pinch ( optional )
Chicken stock
3 cups (I used maggi chicken stock cube 2 + 3 cups water
Cornflour
3 tablespoons mixed
with
1/4 cup water
Capsicum
1 cubed
Oil
4 tablespoons
Salt
To taste
Tinned pineapple
2 slices cut into chunks ( optional , adds a lot of flavour )
Spring onions
few chopped
garnish
Method for making the balls
 Combine all the ingredients mentioned for making the balls with the exception of oil.Set aside for 15 minutes.
 Heat the oil in a frying pan.Make 16 small lemon-sized balls of this mixture, squeezing out excess water to prevent breakage.
 Deep fry the balls a few at a time.Drain when golden brown and cooked. Set aside.
Method For the sauce
Heat 4 tablespoons of oil in a pan. Add the ginger, garlic , capsicum and green chilies.Fry over a medium flame for 1 minute.
Add the Soya sauce, chili sauce, chilli powder , pepper, sugar, ajinomoto, stock and salt. Bring to a boil. Add the fried balls , pineapple chunks and cook covered on low heat for about 3 minutes.
Add the cornflour mixed with water and stir continuously, so that the sauce become thick.Garnish with spring onion tops.