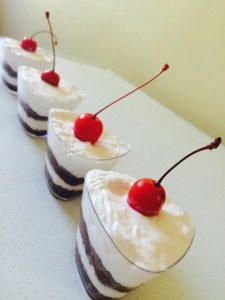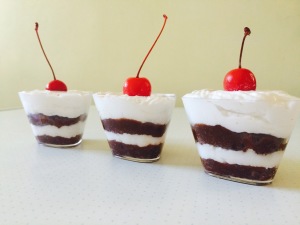 Preparation time  : 20 minutes
Cooking time       : 10 minutes
Serves                 :  8 members
Description
Short glass desserts were first introduced in Coimbatore my home town by JM English bakery in 1980's. I used to love them being flavoured with fruits, chocolates and fresh cream. My mother never let us buy them saying it's made from left over old cake from the bakery. Not sure if she was right I used to love them. In dedication to my nostalgic love for those short glass taste bombs I tried creating my own version. For my first try wanting to be safe, I started with the universally loved Black Forest shots. The lazy bug in me not wanting to wait for a chocolate cake to be baked in an oven took the cheats way of doing the same in a microwave. The chocolate cake ready in few minutes time. I started to assemble the shots and found I had no chocolate to grate in each later of the Black Forest shots but went ahead still as I just wanted to finish off and admire these beauties. Once I was done, the Black Forest shots looked even better than the ones in JM English bakery shelves that I used to drool upon. With utter joy I needed a big pat on my back. Shared the shots with family and friends with lot of praise with all of them saying these shots are perfect portions just right amount to satisfy your sweet cravings. Gear up all and treat your selves soon with these Black Forest shots.
Ingredients for the cake
| Ingredients | Quantity |
| --- | --- |
| Flour | 140 grams or 1 and 1/4 cups |
| Sugar | 175 grams or 3/4 cups |
| Cocoa powder | 3 tablespoons |
| Baking powder | 3 teaspoons |
| Salt | a pinch |
| Eggs | 2 |
| Oil | 100 ml ( I used sun flower oil ) or 1/2 cup |
| Hot water | 100 ml or 1/2 cup |
| Vanilla essence | 1 teaspoon |
Method for Cake
Grease a microwave safe square bowl with oil. Line the bottom with a butter paper.
Mix all the dry ingredients sugar, flour, cocoa powder, baking powder and salt together.
In another bowl whisk together eggs, oil, vanilla essence and hot water together.
Mix the wet ingredients into the dry ingredients and mix well with no lumps.
Pour into the greased and lined microwave safe bowl. Tap down to remove air bubbles. Cover with a cling film.
Microwave on high for 5 minutes. Check by inserting a skewer, if not done. Microwave on high further for another 2 minutes.
Remove from microwave and set aside for five minutes. Remove the cling film and cool completely.
Other ingredients
| Ingredients | Quantity |
| --- | --- |
| Whipping cream | 1 and a 1/2 cup |
| Tinned cherries | 1 cup |
| Sugar | 2 tablespoons |
| Chocolate | 1/4 cup grated ( optional - I didn't use ) |
How to proceed
Cut the cooked chocolate cakes into rounds that will fit into a short dessert glass of 1/4 inch thickness.
whip the whipping cream to stiff peaks with the help of an electric egg beater.
Boil sugar with 4 tablespoons of water just until sugar dissolves. Remove from heat.
Leave a few tinned cherries as it is to Garnish on top. Remove the seeds from the remaining cherries and mix with the sugar syrup.
Place a slice of cake, top with one teaspoon of sugar syrup and cherries.
Pipe whipped cream on top. Garnish with grated chocolate. Repeat the same layers once again. Top with a whole cherrie.
Do the same to all the cake, whipped cream, sugar syrup, grated chocolates and whole cherries.
Place in the refrigerator to chill for three hours or more. Serve chilled.