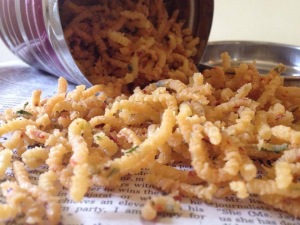 Preparation Time : 25 minutes
Cooking Time : 5-6 minutes for each batch deep fried
Serving : 4 members
Description
Garlic Murukku . This was a kitchen experiment that my daughter ANISHA came up with . She is on a holiday at my place with out her hubby ( that's the high light this holiday as its the rarest of rare's  that I get her alone ) . The joy of having her here is  an OMG experience . I am making maximum use of our girl time together shopping , eating out , watching movies , cooking , gossiping …… ( the list is endless )we were both just talking about something and suddenly my daughter is like I feel like eating murukku's . We just got into the kitchen and started of . The beauty of this recipe is that it comes together very quickly . My girl is so bossy in the kitchen and I don't like it when people tell me what to do when I cook . But finally we came up with a flavour full Murukku with complexity of garlic that lends an added textural surprise . Murukku's always bring a sense of ceremony attached to it with nostalgia . Summer holidays  were celebrated at my grand parents place in palghat with home made traditional nibbles filled in huge air tight containers , kept beside the dinning table . So we kids could eat them when ever we wanted as hunger has no time and can strike any where  especially when with cousins :-))
Ingredients for the dough
| Ingredients | Quantity |
| --- | --- |
| Rice flour | 1 1/2 cups , ( I used the normal iddiappam rice flour ) |
| Oil | 1/4 cup for the flour + to deep fry |
| Water | little to make a dough |
Ingredients for Garlic paste
| Ingredients | Quantity |
| --- | --- |
| Garlic | 2 cloves |
| Dry red chillies | 4 |
| Curry leaves | few |
| Green Chillies | 2 |
| Salt | to taste |
Method
Blend the garlic , dry red chillies , curry leaves , green chillies and salt together to a coarse paste , adding little water if required .
Add this ground paste to the rice flour and mix well .Heat oil and add it to the rice flour mixture .
Mix well adding very little water to get a dough consistency .
Take little dough , fill into the murukku press and press over the hot oil .
Deep fry till crisp and golden in colour . The hissing sound stops once the murukku's are done .
Drain and set aside for some time for the oil to drain and cool a bit . Do the same with the remaining dough .
Keep stored in air tight containers and serve when required .