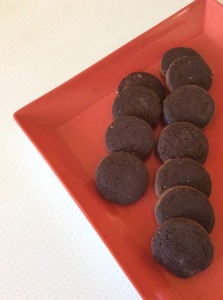 Preparation time : 30 minutes
Cooking time      : 15-20 minutes
Serves                : 4 members
Description
I have a very formal relationship with my neighbors here at my home town. Though we all live near by, we get to meet only once in a while at social gatherings or when we bump into them some where. My neighbor Vijay's children have grown in front of me. Now both her kids are teenager's. Her son Dharshan is doing hotel management 2 nd year at Mangalore. His first project was to set a menu card for a new restaurant. He took note of recipes from sauté, fry n bake and prepared a menu. Guess what, his project was the winning one too. The day he shared this news with me, I was so happy. From then on he does share most of his culinary experiences with me along with sharing a few recipes to. This chocolate cookie recipe was also shared by him . I saved it but got to try it only now. This no fail recipe is for sure keeps. It's so easy and yum to. Thank you so much Darshan for the recipe share which has given me an opportunity to try it out and share with one and all here too. To me recipes are very important but only to a certain point. What's more important is how we think about food and a recipe should open up a new way of doing just that.
Ingredients
| Ingredients | Quantity |
| --- | --- |
| Flour / maida | 100 grams |
| Icing Sugar | 65 Grams |
| Butter | 75 Grams |
| Baking powder | 2 Grams |
| Cocoa powder | 15 Grams |
| Milk powder | a pinch |
| Corn flour | a pinch |
| Chocolate Essence | A drop |
| Egg | 1⁄2 an egg beaten |
| Walnut | 30 grams chopped |
Method
Sieve the flour with cocoa powder, baking powder, corn flour and milk powder.
Cream the butter and icing sugar together.
Add the beaten egg and chocolate essence.
Then add the flour and make soft dough by rubbing method.
Add the chopped Walnut and Keep it in the refrigerator for 10 minutes.
Roll it in to small balls or sheet it into 1⁄2 inch thickness and cut it into required shape.
Arrange them in a greased tray.
Bake it at 160*C in a preheated oven for 15 to 25 minutes and serve when cooled.