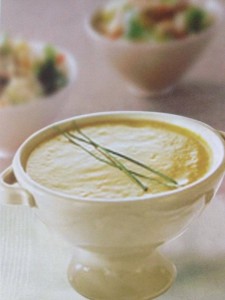 Preparation Time : 10 minutes
Cooking Time : 20 minutes
Serving : 5 members
Description
Onion soup . This is the basic method I follow to make a rich creamy soup at home . Not sure from where I learnt it . The first time I tried it out was with mushrooms when my brother Darvesh was sick and had to be given some soup ( I did avoid the butter and cheese then but everything tastes better with a smear of melted butter :-)) . just loved the creaminess the white sauce gives to the soup . From then on this has been my magical mantra for a creamy rich soup . I do the same with carrots , green peas and potatoes . Once wanting to make mushroom soup for dinner .. Started of but in between noticed that I had no veggies at all . Just went ahead with onions and the soup was Delicate , velvety , creamy and yum . Now a days when ever confused about what to do for dinner , any unexpected guests drop in home and pressed for time , the first in my menu list is onion soup . It rustles up a fuss free yet impressive brunch apt for any meal or time of day . What more do you need than soaking into good food with a relaxed ambiance .
Ingredients
| Ingredients | Quantity |
| --- | --- |
| Onions | 1/4 kg sliced |
| Garlic | 1 big flake |
| Butter | 4 tablespoons |
| Pepper | to taste |
| Salt | to taste |
| Milk | 2 cups |
| Flour | 2 tablespoons |
| Grated cheese | 2 tablespoons |
Method
In a pressure cooker , fry the sliced onions along with salt to taste and garlic in two tablespoons of butter for ten minutes .
Add four cups of water and pressure cook for 2-3 whistles . Remove from flame , cool completely and blend the onions to a puree . Strain and set aside .
Melt two tablespoons of butter in a pan , stir in the flour and keep stirring and cook gently for about one minute . Remove the pan from heat and gradually stir in one cup of milk .
Replace the pan on heat . Bring to boil , slowly stirring continuously until the white sauce thickens . Set aside .
Mix onion puree , one cup milk , cheese , white sauce , pepper to taste and bring to boil and cook for 4-5 minutes letting all the flavors infuse together .
Adjust the consistency by adding water or milk to get a semi thick following soup . Serve hot with garlic bread .
Note
The same method can be followed by substituting 1/2 the amount of onions with mushrooms for mushroom soup , carrots for carrot soup , potatoes for potato soup or green peas for green peas soup .