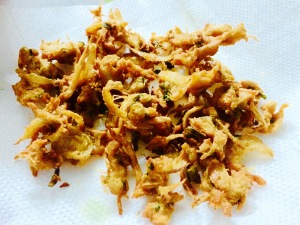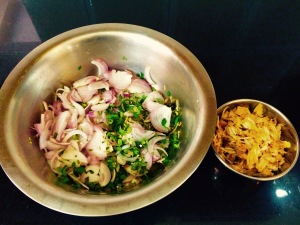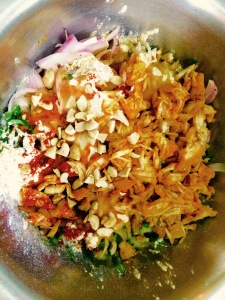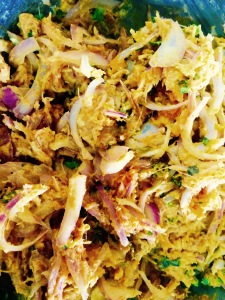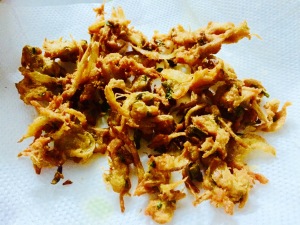 Preparation Time   : 25 minutes
Cooking Time        : 15 minutes
Serving                  : 6 members
Description
As a new bride, very rarely did I get an opportunity to dine out. Mainly because of the few good restaurants we had at hubby dear's place (oops my place too). I remember a new restaurant named neelambari was open and out of the blue we ended up there for dinner. I ordered chicken pakoda for starters and it was yummy yum. There after on our every visit to the hotel the chicken pakoda was a must. A few years later, the restaurant was shut down and back to square one with no going out to dine. The chicken pakoda did haunt me every now and then. Once I had gone to help hubby dear's aunt- sara amma for a party arranged at her home. She was prepping for some thing and asked her what it was? She told chicken pakoda for starters . I could hear the bells ring in my heart but it paused immediately when the though came in… Will it taste like the one in neelambari restaurant?? If yes, hurray or else just keep craving. I made sure to take note about the ingredients to the procedure. Waited for the star moment to give it a try and it tasted perfect exactly like the neelambari hotel chicken pakoda. The trick was to add hot oil to the batter to get crisp pakoda's creating a spark. I have been making this simple to make pakoda's from then on but every time I re- check with Sara amma once again as it's made only during the Iftar day's taking our table by storm always.
Ingredients
| Ingredients | Quantity |
| --- | --- |
| Bone less chicken | 1/4 kg cut into chunks |
| Red chilli powder | 1 teaspoon |
| Turmeric powder | 1/4 teaspoon |
| Ginger garlic paste | 1 teaspoon |
| Salt | to taste . |
Method for chicken
Marinate cleaned chicken with all the above ingredients for half an hour. Pressure cook for one whistle with out water.
Once the whistle sound subsides. Open and boil until the the cooked chicken bits get dry. Cool and shred the chicken pieces.
Other ingredients
| ingredients | Quantity |
| --- | --- |
| Big onions | 4 sliced |
| Curry leaves | few chopped |
| Green chillies | 3 chopped |
| Red chilli powder | 1 teaspoon or to taste |
| Ginger | 1/4 inch piece grated |
| Chick pea flour / besan / kadala maavu | 1 cup |
| Rice flour | 100 grams |
| Hot oil | 5 tablespoons |
| Salt | to taste |
| Soda salt | 1/4 teaspoon |
| Cashew nuts | 2 tablespoons cut to bits |
| Oil | to deep fry |
Method for chicken pakoda
Mix all the ingredients together mentioned above except for oil to deep fry along with the chicken shredded.
Mix well with out adding water and set aside for ten minutes. The onions will let out enough moister to the batter to get a sticky thick mass and the hot oil added also helps to give a crisp pakora.
Heat oil to deep fry. Drop one tablespoon of batter into to the hot oil in batches.
Deep fry to crisp and golden in color.
Drain and serve hot as it is with no dips.