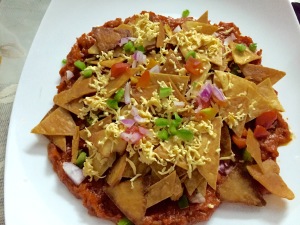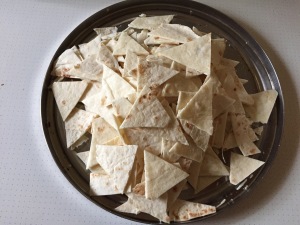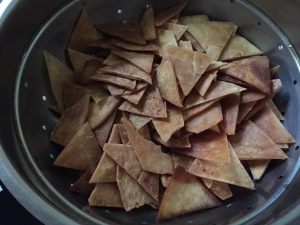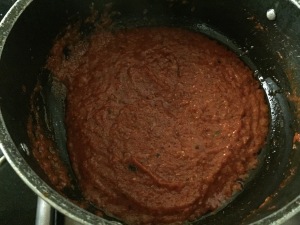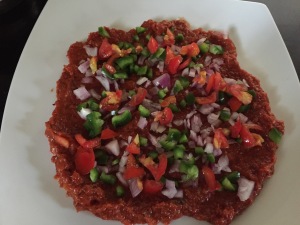 Preparation time  :   30 minutes
Cooking time       :   30 minutes
Serves                 :   6 members
Description
It's been a while since I tried out a fusion international dish. I could feel my dining table shout out to me saying, please we need a change. I grabbed the opportunity when my friend Sheela dropped in home to give me deepavali ( that's how we South Indians say Diwali as ) sweets. A revelry won't be complete with out edible gifts, would it ? This sure did add so much glamour to my other wise dull table. These nachos didn't take much skill or any special equipment to pull off and with my clever touches and twists ( uff please .. No self praising ) to this Mexican divineness, it was a gorgeous creation. Though infinitely versatile, it's all about getting the flavour pairing right. As myself and Sheela were in full swing with munching and gossiping, I heard the calling bell ring . Went and checked and to my surprise it was my neighbor kamala aunty ( we share the same native place ) who had come to drop deepavali sweets as well. Welcomed her and took her strait to the munching spread. We did enjoy our bit of togetherness with a good spread around. The same evening, we had another neighbor's get together to attend for dinner. Myself and kamala aunty had a sly laugh as we both had food in our plates but nothing was lining our tummies. The joy and memories that food bring to my crazy self.
Ingredients for nachos
| Ingredients | Quantity |
| --- | --- |
| Yellow cornmeal flour (makki ka atta) | 2 cups sifted |
| Flour / Maida | 1 cup |
| Baking powder | 1 teaspoon |
| Salt | to taste |
| Oil | 2 tablespoon |
| Warm water | 2 cups or more |
| Oil | to deep fry |
Method for nachos
Mix the yellow cornflour, flour, baking powder, salt, oil and warm water together. knead to get a soft dough.
Roll into equal big lemon size balls. Spread out to thin rotis and cook over a hot griddle (tawa), on both sides. Remove and cool completely.
When cool, cut the rotis to triangle shape with the help of a sharp knife. Deep fry the rotis to a light golden brown and drain.
Keep stored in an air tight container until needed to be served.
Ingredients for Italian sauce
| Ingredients | Quantity |
| --- | --- |
| Ripe tomatoes | 1/2 kg blended |
| Flour | 2 tablespoons |
| Olive oil | 2 tablespoons |
| Garlic | 2 cloves crushed |
| Stock cube | 1 ( I used maggi chicken stock cube ) |
| Dried Basil | 1 teaspoon |
| Oregano | 1/4 teaspoon |
| Chilli powder | 1 teaspoon |
| Sugar | 1 teaspoon |
| Salt | to taste |
Method
Heat a non-stick saucepan with olive oil. Fry the garlic to light brown. Top with flour and sauté making sure no lumps are formed.
Pour the blended tomatoes. And mix well. Add salt to taste, maggi stock cube and 3 -4 cups of water and boil until raw smell goes and sauce thickens.
Season with basil, oregano, chilli powder and sugar. Taste and adjust seasoning. Remove from heat.
Other ingredients
| Ingredients | Quantity |
| --- | --- |
| Onion | 1 chopped |
| Red , yellow and green capsicum's | 1/2 each copped |
| Cheese | grated to taste |
How to assemble
In a wide plate spread the Italian sauce. Pile up the fried nachos over.
Sprinkle chopped onions, three colored capsicum's and grate cheese over.
Serve immediately.