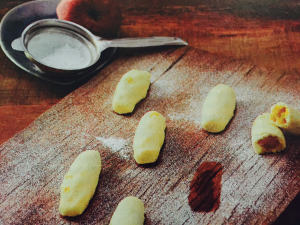 Preparation time   : 30 minutes
Cooking time        : nil
Serves                  : 4 members
Description
Panner ( ricotta cheese ) is one ingredient that I got to know of very late as a kid. I remember eating palak panner in a restaurant for the first time when I was in the fourth standard in ooty. Not knowing what it is made of and tasted like nothing actually. I was in a confused state of mind then. From then on it was just another ingredient to me that is used in savoury dishes. The first time I got to see trala dalal use panner to make cheese cake.. my head did spin thinking yuk panner in a dessert. Wonder how it would taste. Finally I did end up following trala dalals vegetarian method of making a cheese cake with panner. My myth of panner is used just for making savoury things was thrown into the bins. Now I try to make a lot of deserts with panner and this is one such try that I did with tinned mixed fruits. This dessert should be had with in a day or two of making. With no cooking required, this is my go to recipe most of the time. I make the same with the fruits of the season for filling like stewed Apple's or pineapples .
Try this dessert this Diwali season and entertain your loved ones with zing.
Fruit  Sandesh
Ingredients
| Ingredients | Quantity |
| --- | --- |
| Panner ( ricotta cheese ) | 200 grams |
| Powdered sugar | 5 tablespoons |
| Milk | 2 teaspoon ( optional , add only if the panner is too dry ) |
| Rose essence | one drop |
Ingredients for the fruit filling
| Ingredients | Quantity |
| --- | --- |
| Tinned fruit | 1 tin drained |
| Saffron | a pinch |
Method
Mix drained mixed fruits with rose essence and saffron.  keep aside.
Crumble the panner and add the sugar powder. Mix well. If dry add milk it's optional. Knead well together. Roll into lemon size balls.
Flatten each ball to Palm size . Place a teaspoon of mixed fruit in the centre. Bring the flattened panner edges towards the centre and close the fruits and roll to a log shape of finger size. Do the same to all the panner dough and fruits mix.
Place in the refrigerator until needed to be served. Sprinkle with powdered sugar and serve chilled.