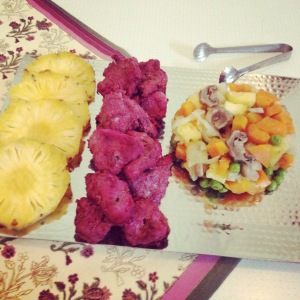 Preparation Time : 3 hours
Cooking Time : 20 minutes
Serving : 4-5 members
Description
The first book that hubby dear brought for me was the great Indian cook book by chefs Vincent Joseph and Mohamed Ahmed qureshi . A treasure trove to North Indian dishes but seldom did I refer to this book as hubby dear being a true blue South Indian just didn't appreciate any other cuisine . my experiments in the kitchen with food and kids being in boarding school  , hubby dear had no option other than being my laboratory rat for trial and error . Slowly he did start liking other cuisines and I some how pulled out the true blue South Indian in him .( Uff , what a relief it is ) once in a while , he dose mention asking me to take care of the rat ( himself ) with care . Oops coming back to the dish . This kebab recipe is from the book the great Indian cook book . I never knew that raw ground veggies were used for marination purpose until I came across this recipe . My trial was an instant hit from taste , aroma to the inviting natural colour because of the ground beetroot used . Though this book has been with me for ages ( nearly 22 years now ) never have I gone through the write up about the chefs and this time when I did noticed that this book contains recipes of dishes served at the Baluchi Indian restaurant at the holiday inn crown plaza New Delhi . This information did widen my eyes as I was awe struck with the reality that I was able to pull off a high class restaurant dish at my home kitchen .
Ingredients
| Ingredients | Quantity |
| --- | --- |
| Chicken boneless pieces | 1/2 kg |
| Beetroot ground | 3/4 cup |
| Cumin seeds | 1 teaspoon |
| Butter to bast | 4 teaspoon |
| Cream | 5 1/3 tablespoon |
| Garam masala powder | 1 teaspoon |
| Garlic paste | 1 teaspoon |
| Garlic paste | 1 teaspoon |
| Lemon juice | 2 tablespoon |
| Salt | to taste |
| Curd | 3/4 cup |
Method
Mix lemon juice , beetroot pulp and salt . Rub over chicken pieces and set aside in the fridge for one hour .Whisk curd and add remaining ingredients and mix well well .
Marinate chicken pieces in this mixture and keep in a refrigerator for 2-3 hours .Preheat oven to 175 degree Celsius .
Skewer the chicken pieces leaving a gap of 2 cm between each chicken piece . Keep a tray underneath to collect the drippings .
Roast in hot tandoor or oven or charcoal grill for about 10 -15 minutes .Paste with melted butter every two minutes once to get soft , melt in the mouth kebabs .
Serve hot with pineapple slices garnished with chilli powder and salt . Vegetable Salad or boiled vegetables ( I served with boiled vegetables ) .