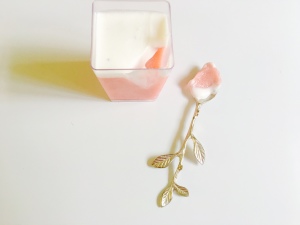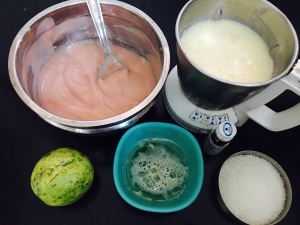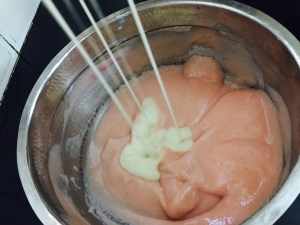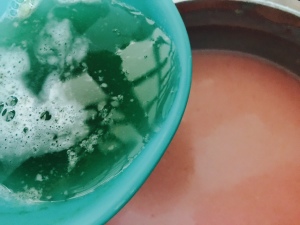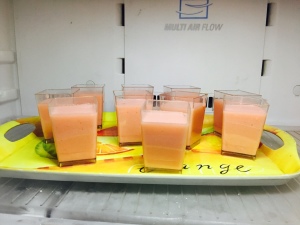 '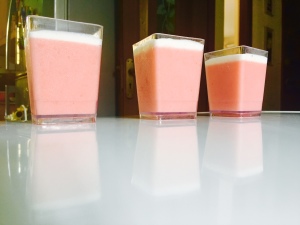 Preparation time  : 30 minutes
Cooking time       : 2 minutes + setting time in the refrigerator
Serves                 : 6 members
Description
I see three guavas in my kitchen counter that are super ripe with their skin shrinking and dull. I could hear them say, "hello mam , can you put us to some good use before we die in no style". It was a lazy day for me. Not wanting to cook much, I just wanted to grind the guava's to make juice. But when I cut the guavas and got to see it's pink fleas inside. I wanted to make a dessert but with no high end technical efforts to be put in. I just went with what I thought might work out. Set it in short glasses. The color was so welcoming but looked too pale. I added another layer to add more glamour. It work perfectly both visually and taste wise too. Having my friend and her daughter visit me with out notice. I ended serving then these guava shots that unnamed just as they asked me what it was. They told they will share one but ended up gobbling what was served to them. My friends daughter made sure to get the recipe from me too. I was happy I gave the dull going to die guavas a glamorous stylish death.
Ingredients
| Ingredients | Quantity |
| --- | --- |
| Guava | 3 chopped that has pink flesh inside |
| Cream | 3 cups |
| Gelatin | 3 tablespoons |
| Water | 1 cup + 1/4 cup |
| Sugar | 1 and 1/2 cups |
| Vanilla essence | 1/4 teaspoon |
Method
Grind the chopped guava with 1 cup water to a smooth paste. Strain and keep aside.
Soak gelatin in 1/4 cup water in a microwave safe bowl for five minutes. Then microwave it for 50 seconds to dissolve. Set aside to cool to room temperature.
Blend cream, sugar and vanilla essence together until sugar dissolves. Set aside one cup of the cream mix and place in the refrigerator. Pour the remaining cream mix into the the guava purée and mix well.
Add the cooled gelatin 3/4 th into the guava + cream mix and mix well. Pour into short glasses to 3/4 full evenly. Place in the refrigerator to set for one hour.
Microwave the remaining gelatin for 30 seconds as it would have set by now. Cool to room temperature. Mix the cooled gelatin with the remain one cup cream mixture from the refrigerator.
Spoon one tablespoon of the cream mixture over the set guava shots. Place the shots once again in the refrigerator for another one hour to set. Serve chilled .
Notes
In case you do not get pink flesh guavas add pink food color to the guava purée.