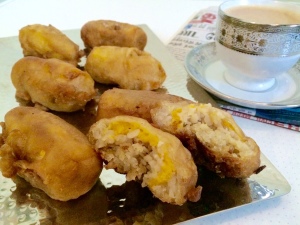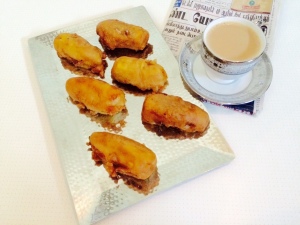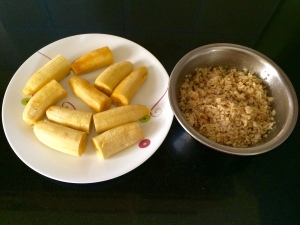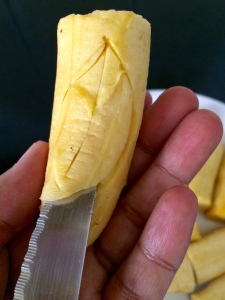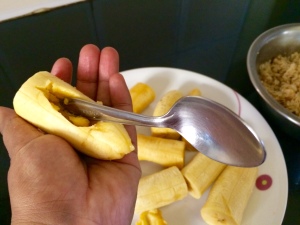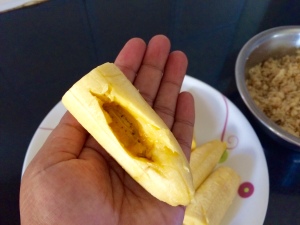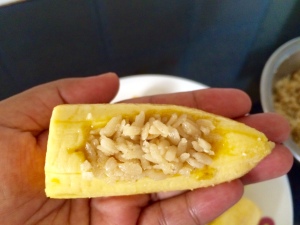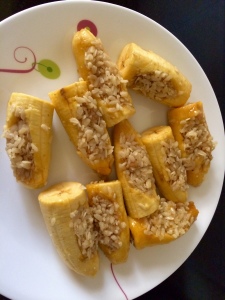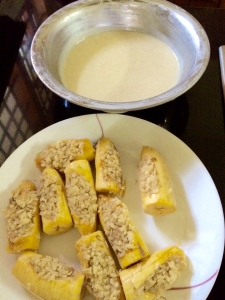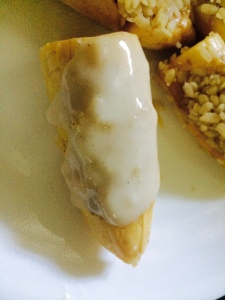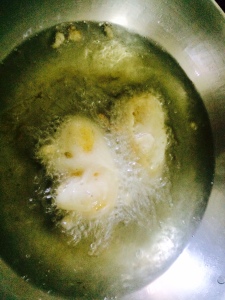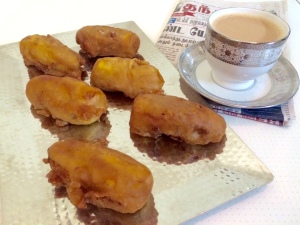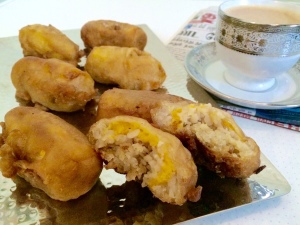 Preparation time  : 15 minutes
Cooking time       :  5- 6 minutes
Serves                 :  8 members
Description
This snack is a family favourite. Once you have had one piece you won't be able to stop. Their charming three layer is an impeccable burst of flavours that is to die for. The trappings of our traditional snacks made by the real chefs who cook up the perfect spreads every day at our homes. It's all about the warmth and love put in every thing they cook. These old school favourite's make me glow with child – like delight. It sure bring's a shot of sunshine into me. Brighten up your staples by making this snack and give your cooking a little more chutzpah.
Ingredients
| Ingredients | Quantity |
| --- | --- |
| Kerala plantain | 4 |
| Oil | to deep fry |
Filling ingredients
| Ingredients | Quantity |
| --- | --- |
| Flatten rice / poha | 1 cup |
| Warm water | 1/3 cup |
| Grated coconut | 1/4 cup |
| Cardamom powder | 1/8 teaspoon |
| Sugar | to taste |
| Cashew nuts | 6 bits |
| Raisins | 6 |
| Ghee | 1 teaspoon |
Batter ingredients
| Ingredients | Quantity |
| --- | --- |
| Flour | 2 cups |
| Rice flour | 1/4 cup |
| Sugar | 100 grams |
| Baking soda | a pinch |
| Salt | a pinch |
| Water | 1 cup or more |
Method
Pour warm water to the flattened rice. Cover and set aside for ten minutes. Once it has soaked in all the water and puffs up, add all the other ingredients under the filling category and mix well. Taste and adjust. Set aside.
Peel the Kerala plantains and cut into equal halves. Take one half and cut out an oval shape with the help of a sharp knife. Take a spoon and with its handel scoop out the inner flesh of the Kerala plantain to get a deep dent with in. Do the same to all the half cut plantains. Fill each dent of the half plantains with the filling.
Mix all the ingredients together for the batter to get a semi thick flowing consistency batter. Patch up the filling in the plantains with little batter just to cover. Place in the refrigerator for ten minutes.
Heat oil to deep fry in a large vessel. Dip each half cut plantain into the batter gently making sure the filling is intact. Drop into medium hot oil in batches of 3 to 4 at a time. Deep fry to golden and crisp. Drain and serve hot.