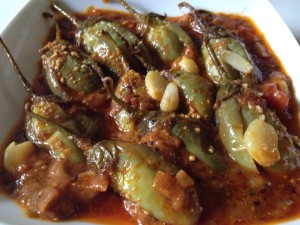 Preparation Time : 20 minutes
Cooking Time : 25 to 30 minutes
Serving : 5 to 6 members
Description
I have already posted a recipe similar to this but that dish is called katharikai katta which is served as an accomplishment for biriyani by the Ravuthar community people of Coimbatore , Salem , Tirupur , Erode ( kongu belt ) and Palghat . This is an dish very own to my hubby's place . My mother -in – laws recipe is a bit complicating and a long process. I used to follow her recipe till a few years back. Once lunch was sent over from my hubby's cousin brother's house . As usual it was biriyani with its accomplishment's . They had sent ennai katharikai also which tasted so very yum and tickled all our taste buds. I immediately called and got the recipe which was a sensational recipe bursting with mouth watering flavours . So easy to what i followed ( my mother – in -laws recipe ). From then on , stuck to this recipe . A slight sweet element in a Savoury dish heightens the flavours and creates a balance . In total this dish is a symphony of sweet and savory. My classmate Christine Coulton had come from Canada to visit me on a holiday and stayed at my place for a week. Took maximum care to entertain her in all means. She loved the Ennai katharikai I served her ( my mother- in – laws complicated version ) she took note of the recipe then and there . She did give the recipe a try and it was a great hit at her home. After a few months , she did call to get the recipe again as she lost the previous recipe note . By then I got to know the easier recipe version and told her this recipe instead. Though not convinced enough she took note and made it on a Sunday. she called me and said , she made quite a lot thinking to freeze half for later use but every thing just vanished in minutes on the table , following with high praise.
Ingredients
| Ingredients | Quantity |
| --- | --- |
| Small sized brinjal's | 1/2 kg , ( cut the bulb into four with the stem on the brinjal's ,important to check for worms in the brinjal ) , |
| Small onions whole | 1 1/2 hand full |
| Garlic flakes | one hand full |
| Gingely oil | 1 cup |
| Mustard seeds | 2 teaspoon |
| Curry leaves | few |
| Sambhar powder | 3 tablespoons full |
| Hing | 1/4 teaspoon |
| Tomato | chopped |
| Tamarind pulp | 1/2 cup |
| Salt | to taste |
| White Sesame seeds | 1 teaspoon |
| Roasted peanuts | 1 teaspoon crushed |
| Jaggery | 2 teaspoons |
Method
Heat oil in a non stick kadai , add mustard seeds and curry leaves . Once they crackle , top with hing , whole onions and garlic .
Sauté for a 2 minutes . Add the brinjal's and sauté in medium heat for 5 minutes till the colour of the brinjal's change and looses its stiffness .
Add tomato , salt and sambhar powder . Sauté till the tomatoes lets out its juices . Add 1 cup water and bring to boil .
When the brinjal's are 3/4 cooked , add the tamarind pulp . Toss well and cook until brinjal's are cooked through and gets to a thick gravy coated with the brinjal's .
Add jaggery , sesame seeds and crushed peanuts . Toss well . Simmer till oil separates . Taste and adjust seasoning .
Should taste tangy with the sweetness coming through . Serve hot .