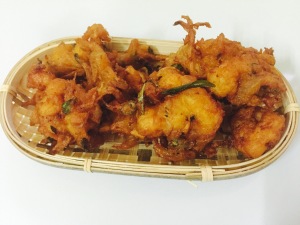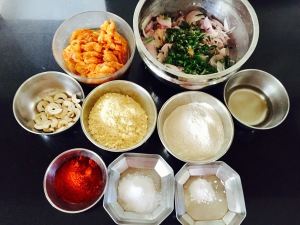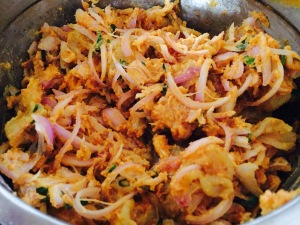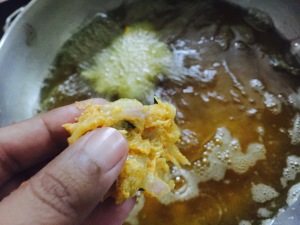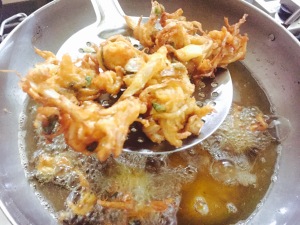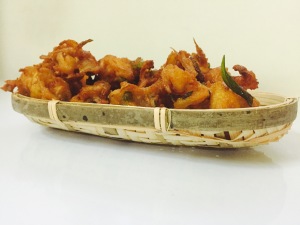 Preparation time  :  30 minutes
Cooking time       :  3 minutes for each batch deep fried
Serves                 :  6 members
Description
Any thing made with prawns is welcomed whole heartedly by my boy and myself. Hubby dear likes it but is a bit hesitant to indulge in. My boy and myself make full use of this as an advantage. At a family gathering not knowing what to do for starters. The idea of prawn pakora popped up in my mind. I made it with a little change to the chicken pakora I make usually. Tried one test batch ahead and it was spot on. Make sure to add small size prawns as it gives more taste with one bite having many tiny succulent prawns in them. Served it and was a super duper hit with no left overs. I served it with tomato sauce but no one touched the sauce. They preferred having it as it is with no dip. Happens most of the time at home. We and our crazy taste buds. This recipe is being added to our regulars at home. You all too, give a try and I assure you it will be added to your regulars at home too..
Ingredients
| Ingredients | Quantity |
| --- | --- |
| Prawns | 1/4 kg cleaned |
| Red chilli powder | 1 teaspoon |
| Turmeric powder | 1/4 teaspoon |
| Ginger garlic paste | 1 teaspoon |
| Salt | to taste |
Method for Prawn
Marinate cleaned prawns with all the above ingredients for half an hour.
Other ingredients
| Ingredients | Quantity |
| --- | --- |
| Big onions | 5 sliced |
| Curry leaves | few chopped |
| Green chillies | 3 chopped |
| Red chilli powder | 1 teaspoon or to taste |
| Ginger | 1/4 inch piece grated |
| Chick pea flour / besan / kadala maavu | 1 cup |
| Rice flour | 100 grams |
| Hot oil | 5 tablespoons |
| Salt | to taste |
| Soda salt | 1/4 teaspoon |
| Cashew nuts | 2 tablespoons cut to bits |
| Oil | to deep fry |
Method for Prawn  Pakoda
Mix all the ingredients together mentioned above except for oil to deep fry along with the marinated prawn.
Mix well with out adding water and set aside for ten minutes. The onions will let out enough moister to the batter to get a sticky thick mass. The hot oil added helps to give a crisp pakoda.
Heat oil to deep fry. Drop one tablespoon of batter into to the hot oil in batches. Deep fry to crisp and golden in colour.
Drain and serve hot as it is with no dips.