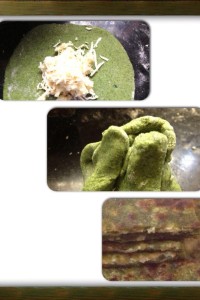 Preparation Time : 25 minutes
Cooking Time : 10 minutes
Serving : 4 members
Description
Potato cheese palak roti. A very tasty roti which can be had as it is without any thing to accompany it. The green colour with white spots here and there is liked by children a lot.A good trick to make kids eat their spinach. This roti is apt for the lunch box to school or office as it stays soft for a long time and tastes good at room temperature too. I remember when i was in boarding school as a kid , our entire table (10 girls with us) used to take the vegetables served to us on our plate as a heaped spoon full. Put it into our mouth in one shot and drink water and swallow the vegetables . I guess most of us should have gone through such experiences as kids for sure.(If not for vegetables,something else at least) there are so many ways to cheat our children to eat their veggies in a good happy healthy way. It's just that we have to take that extra bit of effort to do so.
Ingredients
| Ingredients | Quantity |
| --- | --- |
| Potatoes | 1 cup boiled , peeled and mashed |
| Spinach - boiled and ground to a paste | 1 cup |
| Wheat flour | 3 cups + for dusting |
| Cheese | grated 1/4 cup |
| Salt | to taste |
| Curd | 3 tablespoon |
| Turmeric powder | 1/4 teaspoon |
| Cumin powder | 1/4 teaspoon |
| Green chillies | 1 chopped |
| Coriander leaves | 1/2 teaspoon chopped , |
| Oil | 1 tablespoon + for greasing and cooking |
Method
Mix wheat flour , palak paste , salt to taste , turmeric powder , cumin powder , curd and 1 tablespoon oil together . Knead well to get a smooth dough .

Divide into 10 -12 equal balls . Roll out each portion of the dough into a circle , dusting with wheat flour over .

Season mashed potatoes with salt , green chillies and coriander leaves . Place some grated cheese over the circle roti , top with a heaped tablespoon of potato mixture and top with more grated cheese .

Bring the edges of the circle roti together and pinch of the excess dough . Roll into a ball . Do the same with all of dough and potato mixture and cheese .

Dust a flat surface with wheat flour . Flatten the stuffed balls with your palms gently and roll into a circle gently making sure the stuffing does not come out .

Heat a non – stick griddle ( tava ) and cook the roti on both sides , using a little oil , till golden brown spots appear . Repeat with the remaining stuffed dough .

Serve hot with curd , pickle or any vegetarian gravy of your choice . I like it best with curd or any raitha .