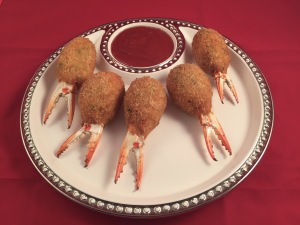 Preparation time : 30 minutes
Cooking time      : 10 minutes + 3 minutes for each batch deep fried
Serves                : 6 members
Description
Every month, I am given a topic and asked to share ten recipes for a tamil monthly magazine. I always play it safe with tried and tested recipes that I have shared with you all here. This time the topic was crab. I had just two to three recipes that I had tested. I was pushed to a situation where I had to come up with other recipes using crab. I wrote a list of all that I could think of. Read it and found nothing new, innovative or interesting was written. Broke my head for some time and tried to re- invent another version of the same recipes that I had listed. The usual crab cutlets were changed to crab lollipop's that was a spot on genius reinterpretation of its own. Made them, took pictures and were tasted by my gym buddies. They went head over heels with the crab lollipop's. As I was watching them have so much fun eating it, in my mind I did think if.. I didn't make this change. They all would be eating a normal cutlet with no enthusiasm at all. Well, food is an art where you get to play visually too. Go ahead, try this recipe and treat yourself and your loved ones tastefully and visually.
| Ingredients | Quantity |
| --- | --- |
| Crab claws | 6 boiled |
| Boiled Crab flesh | 1 cup |
| Boiled potatoes | 1/2 cup |
| Bread slice | 1 coarsely powdered |
| Onion | 1 chopped |
| Green chilly | 1 chopped |
| Coriander leaves | 1 tablespoon chopped |
| Ginger and garlic paste | 1/4 teaspoon |
| Red chilly powder | 1/4 teaspoon |
| Pepper powder | 1/4 teaspoon |
| Lime juice | 1/2 teaspoon |
| Egg | 1 whole beaten with salt + pepper to taste |
| Bread crumbs | 1 cup |
| Oil | to deep fry |
| Salt | to taste |
Method
Heat 2 tablespoons of oil in a non stick kadai. Add onions and green chillies and fry to translucent.
Add all the other ingredients one by one except for egg, bread crumbs, lime juice, crab claw's and oil to deep fry. Sauté till all the flavours infuse together.
Remove from flame add lime juice. Mix well taste and adjust then cool. Make equal round balls of the potato – crab mixture, dip in beaten egg.
Then roll over in the bread crumbs. Place the ball on top of a crab claw. Roll with hands to get a lollipop shape.
Do the same with all the potato – crab mix and crab claws.
Heat oil and deep fry. Drop the crab lollipop's in batches of two to three at a time.
Deep fry in medium heat for the cutlets 2 -4 minutes to a golden brown colour. Drain and serve hot with tomato ketchup.