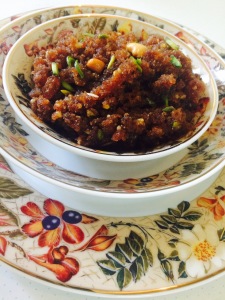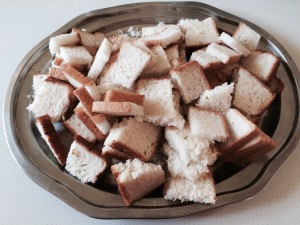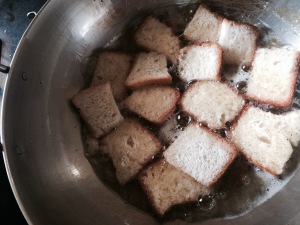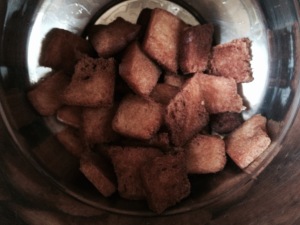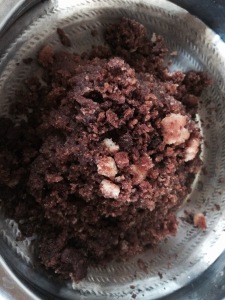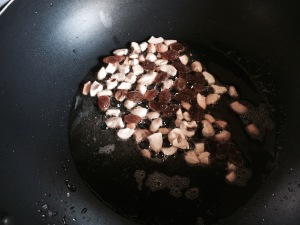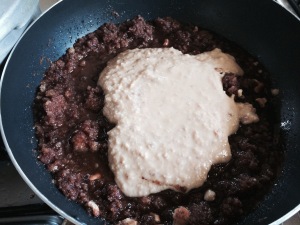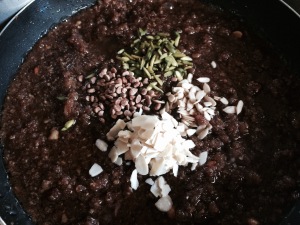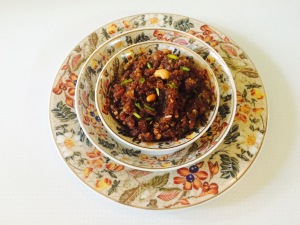 Preparation Time  : 30 minutes
Cooking Time       : 25 minutes
Serving                 : 6 members
Description
Every festive meal in a the ravuthar ( tamil – Muslim ) community is served with a sweet beside for sure. The sweet is mainly made with a fruit or a vegetable of choice and flavoured with cardamoms,ghee,sugar,nuts and raisins.We have white pumpkin sweet called mittah,tomato sweet,pineapple sweet,beetroot sweet,green mango sweet… The variety differs from each district through out Tamil Nadu. There is a vast regional difference in the food from North to South of the state.Only in the recent the mighty bread sweet has been added into most of the wedding menus. No idea as to from where this simple yet stunning crowd pleaser popped up out of a sudden but has become very popular over taking the older variations. The first thing to be served on to the plantain leaves at weddings are the sweets as a symbol of serving a helping of happiness to begin with.Where we start with the sweet waiting for the remaining main course ( what else other than biriyani in a Muslim wedding ) to be served.I remember,my friend meera's mother in law sharing the recipe with me once but never did try it as at home the old school menu is welcomed un-changed always.My gal ANISHA got the recipe from me once and she told me all were wooed by the bread sweet.Now my turn… Did make it once when I had to send a packed lunch to my friends house.Gave a spoon full to hubby dear and he liked it too. From then on its a regular at home with sparks of conversation flying over and over again debating about the votes for the new in bread sweet or the old school ones. My vote goes to all the sweets as each sweet has it's simplicity of its own.Ubiquitous at most ravuthar festive occasions, this simple sweet is relished for its pleasurable dining experience and perfect for large gatherings. You don't need to be an expert cook to make this sweet. You just have to want to do it  Like I do always..
Ingredient
| Ingredient | Quantity |
| --- | --- |
| Bread loaf | 1 cut into cubes with the crust |
| Sugar | 3 cups |
| Water | 1 1/2 cup |
| Un sweetned Kova | 100 grams |
| Cashew nuts | 3 teaspoons chopped |
| Raisins | 3 teaspoons |
| Almonds | 5 soaked in hot water for a minute , peeled and cut into thin strips |
| Pistachios | 10 soaked in hot water for a minute , peeled and cut into think strips |
| Salt | a pinch |
| Saffron | a few strands soaked in 2 tablespoons of warm milk |
| Ghee | 4 tablespoons |
| Oil | to deep fry |
Method
Boil sugar and water together for four to five minutes. Mixing well,until sugar dissolves and gets a bit thick.
heat oil to deep fry in medium heat. Deep fry the beard pieces in three batches to a deep golden brown colour.
Make sure not to burn them. Drain over absorbent paper. Cool completely. Blitz the crisp bread pieces to a coarse powder and set aside.
Heat ghee,add cashew nuts. Once they start to get to a light golden colour add the raisins and sauté,lowering the heat.
Top with the coarse bread powder and sugar syrup. Mix well to combine and get to a gooey mass.
Add the Un sweetened kova to little water and dilute it. Pour over the bread and mix well.Bring to boil until you get a mushy mass of semi thick sweet in your pan.
Top with a pinch of salt,almond strips,pistachio strips ( I have added cucumber seeds and chirongi nuts-saara paruppu in tamil, which is optional) and saffron soaked in milk. Mix well. Taste and adjust.
serve at room temperature garnished with more almond strips and pistachio strips.
Notes
Make sure to deep fry the bread cubes in medium high flame for a few seconds to a deep golden colour.
As the bread cubes tend to burn easily, in case you are using sweet kova,add less sugar syrup.
I always dilute the kova with little water and pour over the bread as it's easier to mix with no lumps.