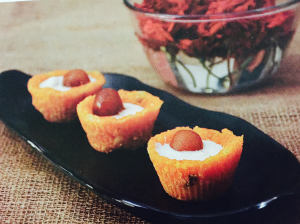 Preparation time : 15 minutes
Cooking time       : 30 minutes + 4 hours setting time in the freezer
Serves                 : 8 members
Description
Combining three classic desserts together to be served as one is what is done here in style. I am sure most of the households in India celebrate festival's with carrot halwa and gulab jamoon. Here I have made edible cups with the carrot halwa, topped it with a scoop of icecream and garnished it with a mini gulab jamoon. This match made in heaven divine combination is a never fail killer trio. As I was writing the recipe, I had my friends help me out. The entire gang was drooling and excited about it. They still have not got their share. I am yet to treat them. I was not very confident with making the edible cups with carrot halwa but believe me it's easier to make than to be imagined as a hard task to master.I assure you any where served it will be a super hit. To more edgy recipes that can be done at home in restaurant style.. let's do a hip hip hurray and celebrate the dessert.
Edible carrot halwa  cups served with ice cram and gulab jamoon
Ingredients
| Ingredients | Quantity |
| --- | --- |
| Carrots | 6 peeled and grated |
| Ghee | 1/2 cup |
| Sugar | 1 cup |
| Salt | a pinch |
| Fresh cream | 1 teaspoon |
| Milk Kova | 2 tablespoons |
| Cardamom powder | 1/4 teaspoon |
| Almonds, Cashew nuts and pistachio | few peeled and chopped |
| Milk | 1/4 litter |
| Vanilla essence | one drop |
| Mini Gulab jamoon | 10 |
| Vanilla flavour ice cream | 3 cups |
Other things needed
muffin baking tin
Cling film
Method
Heat ghee, add the chopped nuts and fry to golden in colour. Add the grated carrots and milk.
Cook to done. Reduce the moisture by boiling further to get a dry consistency mixture.
Add sugar, cream, milk Kova and cardamom powder. Boil further for 10 to  15 minutes until moist but thick.
Remove from heat and cool completely.
Line each cup cake mould with cling film making sure it is around 1/2 centi meter above the muffin mould so it's easy for you to lift and peel once the cups are set.
Grease each muffin dent with ghee on top of the cling film.
Drop two tablespoons of cooled carrot halwa into each muffin lined dent.
With your hands press in the bottom and all around in equal thickness to get a cup shape. Place this muffin tin in the freezer  for four hours or more to set.
Just before serving, remove the muffin tray from the freezer.
Peel the set cups out of the cling films. Place in a serving plate.
Top with a scoop of ice cream inside the carrot halwa cups. Place a mini gulab jamoon in the centre of the ice cream and serve immediately in style.