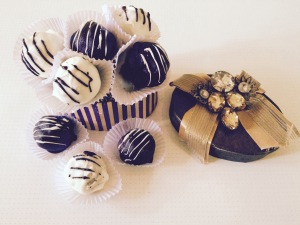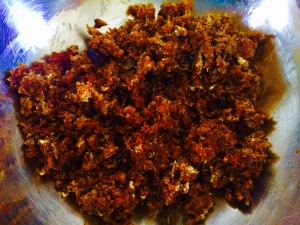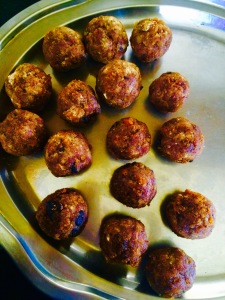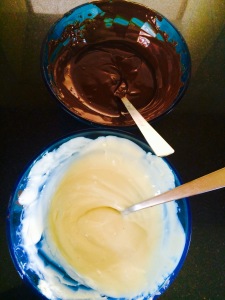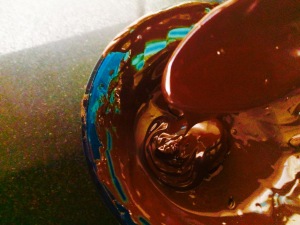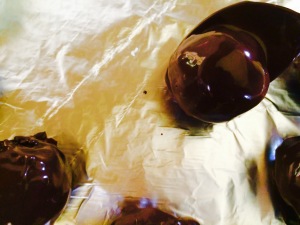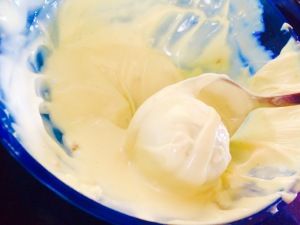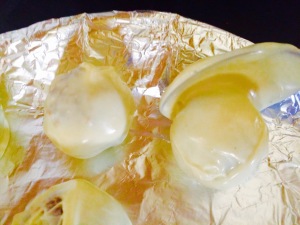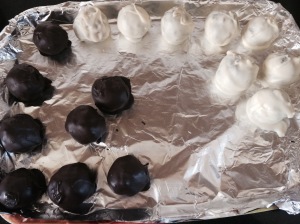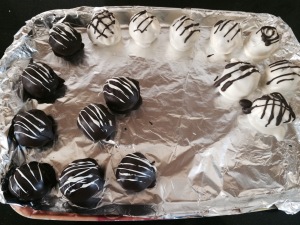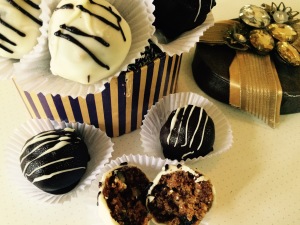 Preparation Time   : 30 minutes + 1 hour setting time in the refrigerator
Cooking Time        : 2-4 minutes
Serving                  : 8 members
Description
Having a big bowl full of carrot cake that I made for my mother- in- laws (my father- in- laws elder brothers wife) birthday. I didn't want to repeat the same as I do always by making a trifle pudding. Remembered the lovely Apple cake balls that my aunt (mom's last sister) would bring on her every visit while holidays from a shop called mec rennit (and the black halwa from buhari restaurant.. My am drooling in buckets here as Typing) in chennai. The cake balls are  dipped into colored sugar glaze. Wanting to do some thing similar to that . Just mixed up the left over cake, cream cheese frosting that I used for frosting the birthday cake and left over whipped cream that was used to make a mousse. Now a big confusion as I have never ever made a sugar glaze before so decided to just dip it into melted chocolate as it has been in my refrigerator for quite some time. Went ahead and it worked wonders more than I did expect. The cake truffles were moist on the inside and the chocolate  covering was melt in the mouth with a soothing effect. I drizzled more chocolate over the set truffles and served them in small cup cake holders. Wolla… All done with me  getting to know yet another dish added to my list of easy yet eye pooping recipes to impress and share as gifts well.
Ingredients
| Ingredients | Quantity |
| --- | --- |
| Cake crumbled | 2 cups ( cake of choice - here I have used spiced carrot cake ) |
| Cream cheese | 3 ounce |
| Softened Butter | 1 teaspoon at room temperature |
| Dark Chocolate | 1 cup chopped ( I used morde dark compound chocolate ) |
| White chocolate | 1 cup chopped ( I used morde white compound chocolate) |
Method
Mix together the cake crumbs, cream cheese and  butter. Mix well. Taste and add powdered sugar if needed ( it's optional ). Mix well to get a slightly wet mixture which is easy enough to roll into a ball.
Make big goose burry size even balls out of the cake mix. And place in the refrigerator for 30 minutes. Place the chopped white and dark chocolates in separate microwave safe bowls that are not wet and greasy but clean.
Microwave each bowl separately for a minute. Remove and mix well with a dry spoon after 30 seconds to get a runny flowing consistency chocolate with no lumps. In case the chocolate is still hard with lumps.
Microwave for another 30 seconds and mix well. Drop a cake ball into the liquid chocolate bowl. Toss well gently making sure not to break the cake ball and to coat the chocolate over the ball all around with the help of a spoon.
Do the same to all the balls alternatively in both white and dark chocolate with separate spoons. Remove and place them 1/4 inch apart from one another on a flat tray lined with foil.
Place in the refrigerator to set for 30 minutes or more. Once set, drizzle white chocolate over the dark chocolate truffles and drizzle dark chocolate over white chocolate truffles to add more glamour.
Place in the refrigerator until needed to be served. Place these chocolate truffles over a small cup cake holder. serve and enjoy.