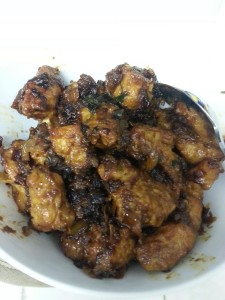 Preparation Time : 10 minutes + 2 hours for marination
Cooking Time : 12 -15 minutes
Serving : 6 members
Description
Ginger Chicken. Recipe post by Ayesha Nazreen from USA. She didn't send in a description. the word ginger brings me memories of the time when i had delivered my first baby ANISHA . At moms place, after delivery treatment is totally different from my in-laws place. I was forced into both the treatments and under went a lot of mental and physical strain. every morning by 4 o clock i was given a huge glass of ginger juice mixed with a lot of honey and some medicinal powder (the consistency used to be so thick that i use to find it so very difficult to drink the ginger juice).This treatment was from my in-laws place. Till date i have a disliking towards ginger because of thet. But this recipe sounds to be delicious. It's a must try recipe folks.
Ingredients
| Ingredients | Quantity |
| --- | --- |
| Boneless chicken | 1 lbs ( 0.45 kg) |
| egg whites | 2 |
| white pepper powder | 1 tablespoon |
| cornflour and maida | 4 tablespoon |
| soy sauce and red chili sauce | 3 tablespoon |
| ginger juice | 1/2 cup |
| Salt | to taste |
| coriander leaves | to garnish |
| onion | 1 white onions finely chopped |
| capsicum (green and yellow) | 1/2 each |
| garlic pods | 5 crushed |
| green chillies | 3 finely chopped |
Method
Wash the chicken and marinade with egg white, white pepper powder, salt, cornflour and maida for 2 hours.
Deep fry the chicken in oil.let it cook for few mins on each side.the chicken must be 70% cooked.drain excess oil in a tissue.
In a kadai add few tablespoon of oil.let it heat then add onions, green chillies and crushed garlic.once the onion turns pink add capsicum and let it cook for 5mins.
when the raw smell of onion goes add ginger juice, soy sauce and red chili sauce.let it cook for sometime until the gravy gets thick.
Now add the fried chicken and mix it well in this mixture.let it cook for 5 – 7 mins.before turning off the stove add 1tspn of cornflour mixed with water and nicely mix it well . garnish with corriander leaves.
Serve with roti or any Chinese dish.