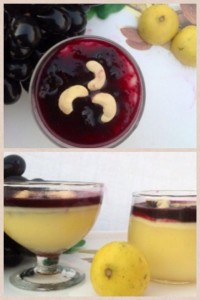 Preparation Time : 20 minutes
Cooking Time : 15 minutes
Serving : 4 members
Description
Saffron lemon pennacotta with grape sauce. Recipe post by saliha Azeem for the competition. I strongly felt this might be one among the winning dishes. Her Description follows. I've been waiting for a long time to make panacotta. I've been surfing n reading books for past 15 days to get a different recipe. All i finally got was strawberry panacotta recipe everywhere. So made up my mind to do sumthing innovative on my own n friends dis is the result of my innovation. This is a very simple recipe the flavor from saffron and lemon tastes heavenly. Believe me frnds d panacotta goes very well wid d sauce i ve made here . my mom in law n my kids luvd dis soo much
Ingredients for pudding
| Ingredients | Quantity |
| --- | --- |
| Fresh cream milk | 2 cups |
| Sugar | 3/4 cup |
| Gelatin | 1 tablespoon |
| Condensed milk | 3 tablespoon |
| Saffron | 1/4 teaspoon |
| Lemon rind | 1/4 teaspoon |
Ingredients for Sauce
| Ingredients | Quantity |
| --- | --- |
| Ripe grapes | 10 to 15 |
| Sugar | 3 tablespoon |
| Butter | 2 tablespoon |
| Water | 1/4 cup |
Method for pudding
Soak 1 tablespoon gelatin in 5 tablespoon lukewarm water n keep it aside.Boil 2 cups of full cream milk with quarter cup of sugar and conndensed milk.
Keep stirring.on the other side dry roast saffron in a pan for few secs until a smell comes out from saffron.
At dis stage add d boiling milk on to dis n add lemon rind too.let dis boil well.keep in sim for 7 mins.in d meantime double boil gelatin n add to d boiling milk.let dis cool well.
Strain n pour into mould.
Method for Sauce
Boil grapes,butter,sugar and water in a saucepan in a medium heat uncovered,stirring until sugar dissolves.strain through a fine sieve to remove the seeds.