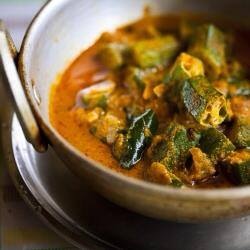 Preparation Time : 15 minutes
Cooking Time : 20-25 minutes
Serving : 3-4 members
Description
Vendakai paal Kari . A side dish very own to my hubby's place which is simple , yet an inventive approach to cooking with focus on using local ingredients .  Usually this side dish is served in most Muslim house holds through out the Nellai district with each house having their own twist and version to it . The basic of this dish is same by adding thin and thick extracts of the coconut  but the other ingredients may vary and most households garnish with maasi ( Maldives dried fish powder ) here at hubby's place they don't add maasi . This dish is one among my favourite side dishes . Once my grand ma balkees perima ( dads mom ) had come to my hubby's place to visit me on a two days trip . My grand mom being a fussy person about food and every thing around , I had to take extra care to satisfy her needs . She loves fish and fish is one among the best local produce that Nellai is best known for . Made fish curry with other side dishes for lunch , one being vendakai paal Kari . My fussy grand mom liked the vendakai paal Kari so much that she just could not stop raving about it in a hilarious way though !!!Well,  who would have expected this simple lesser known but much more flavourful and interesting side  dish would impress her taste buds to this extent . Till date this dish fills my mind with soaked wealthy emotions of memories about my grand mom balkees perima . Miss her tons and loads as she is no more :-((
 Ingredients
| Ingredients | Quantity |
| --- | --- |
| Tender small ladies finger | 1/4 kg cut into finger size |
| First coconut milk thick extract | 1 /2 cup |
| Second coconut milk thin extract | 1/2 cup |
| Small onions | one hand full chopped |
| Tomato | 1 big chopped |
| Green chillies | 2 slit |
| Coconut oil | 1 tablespoon |
| Cumin seeds | 1/2 teaspoon |
| Curry leaves | few |
| Chilli powder | 1/4 teaspoon |
| Turmeric powder | a pinch |
| Salt | to taste |
Method
Heat coconut oil in a non – stick pan . Add cumin seeds and curry leaves . Once they crackle add small onions , green chillies and ladies finger .
Saute until the ladies finger changes colour and gets dry without being sticky .
Add the tomato and saute until it lets out all its juices and gets to a mushy pulp .
Add salt , chilli powder and turmeric powder . Mix well adding thin second extract of the coconut .
Cover and cook the ladies finger . Once cooked and the thin extract has evaporated , add the thick first extract of the coconut .
Simmer and let the coconut milk infuse into the ladies finger for a few minutes and when oil separates , remove from heat and serve hot as a side dish with white rice or chapatis .
Notes
Wash the ladies finger whole . Pat dry with a napkin .
Then cut and use . In case the ladies finger are wet , it tends to get sticky and mushy .
You can do the same with French beans , drum sticks and potato fingers . ( use fennel seeds instead of cumin seeds with drum stick and potatoes .)