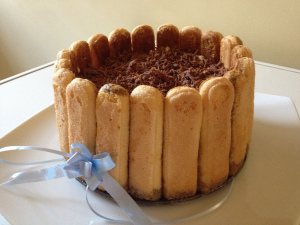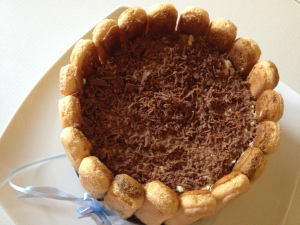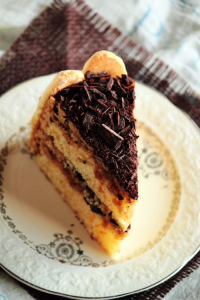 Preparation Time : 35 minutes
Cooking Time : nil but 8 hours or over night refrigeration to set the tiramisu
Serving : 10 members
Description
Tiramisu to me always relates to romance … The reason being the English movie " NO RESERVATIONS " . Where actor Aaron eckhart who's nick in the movie brings actor Catherine zeta jones who's Kate in the movie a tiramisu for a date to her apartment . Obviously , He being an Italian chef does so but Kate says she's not a dessert person and nick makes a pizza instead but the tiramisu sure does change Kate's mind and romance follows . From the very day I heard the word tiramisu in the movie and the way they both ate  it . I became desperate to taste this mighty delicacy from across the country dessert but the problem of days of no google where it was plain classic days of trial and error . No recipe in hand , had to just assume , ponder and fantasise upon it's taste , texture , aroma and look . Finally one day did take note of a easy version of tiramisu in the telly through food safari . Now the next problem being not having marscopone cheese or savoiardi sponge fingers in hand . I was not ready to give up so substituted marscopone cheese with cream cheese and savoiardi sponge fingers with bourbon chocolate biscuits . Went ahead following the recipe . As making it was so confused that I am using raw eggs .. How will it taste ??? If it's eggy that's it the entire tiramisu will have to go to the bin . With a million doubts in mind went ahead and placed it in the refrigerator over night and the next day for lunch ,did start serving to all at home . For all the rave and enthusiasm I had over tiramisu , my heart was pounding with fear now about the taste . My fussy girl Anisha was the first to taste and she was like what is this , it tastes so yum . Relived me tasted my share and not a sign of raw egg smell in the tiramisu . What ever but still I haven't got to taste the authentic tiramisu with marscopone cheese and savoiardi sponge fingers .well that quest was done slowly one by one as I got access to marscopone cheese first so the cream cheese was substituted and then once on a trip to Bangalore went head over heels seeing savoiardi sponge fingers in a department store . Grabbed a few packets and tried it out when at home the authentic way and my taste buds were never pampered so generously ever . Nothing can come close to an authentic tiramisu for sure and finally , now I know why Kate fell over the tiramisu and nick :-)) .
Ingredients
| Ingredients | Quantity |
| --- | --- |
| Eggs | 6 separated |
| Sugar | 3/4 cup |
| Marscopone cheese | 500 grams |
| Vanilla essence | 1 teaspoon |
| Italian sponge fingers (savoiardi) | 1 large packet ( can replace with sponge cake fingers or Bourbon biscuits ( my version ) |
| Instant Coffee powder | 1 1/2 tablespoon mixed in 1 cup water and sugar to taste . ( original recipe demands for coffee liqueur or coffee powder mixed with rum ) |
| Chocolate | grated to taste ( original recipe demands for cocoa powder ) |
Method
Beat egg yolks , sugar , marscopone cheese and vanilla essence together to a smooth gooey mixture and set aside .
Beat egg whites to stiff peaks . Fold in the egg white mix into the yolk mixture . ( fold and lift ) In a pudding tray or dish .
Lay a layer of sponge biscuit finger dipped in coffee mixture on the bottom , then top with grated chocolate , cover with egg + cheese mix .
Repeat the layers to the top of the pudding dish , finishing with a final layer of grated chocolate . Place in the refrigerator over night or for 8 hours and serve cold .