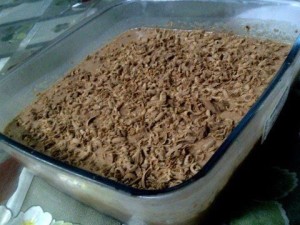 Preparation Time : 10 minutes
Cooking Time : 20 minutes + 3 to 4 hours for the soufflé to set in the refrigerator .
Serving : 6 to 8 members
Description
The recipe and the picture is made by Rahima Zenofer ( my hubby's niece ) the great . I have not yet tried out the recipe but will very soon . Looks yum , sure will taste yum too . Rehima Zenofer and her sister mahmudha Fezia are foodies like me . Last summer we all went on a holiday to Bangalore . The first main thing on our list to do was exploring food . We ate , ate , ate so much that all of us had to be on a strict diet after our trip .
Ingredients
| Ingredients | Quantity |
| --- | --- |
| condensed milk | 1 tin |
| cocoa powder | 4 tablespoons |
| milk | 2 cups ( boiled and cooled ) |
| chocolate | 50 gm |
| walnuts | 50 gm optional |
| gelatin | 2 tablespoons |
| whipped cream | 200 gm |
Method
Dissolve gelatin in 1/2 cup water . Microwave for 30 seconds or double boil .
Add cocoa powder and dissolve in 1 cup milk and make a smooth paste .
Add dissolved gelatin to the cocoa mixture and mix well .
Add remaining milk , condensed milk and mix well .
Fold in the whipped cream to the chocolate mixture and pour into cups or a pudding tray . Set in refrigerator for 3 to 4 hours .
Garnish with chopped walnuts and grated chocolate . Serve chill