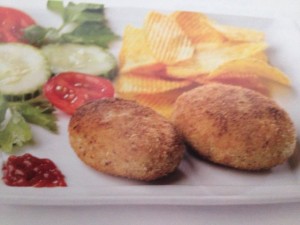 Preparation Time : 25 minutes
Cooking Time : 8 to 10 minutes
Serving : 6 members
Description
2 weeks back got a message in sauté, fry n bake from grace Joseph of taxsas asking me for a healthy recipe for tuna fish cutlet Without useing potatoes and shallow frying instead baking . Broke my head over this message . Squeezed out my brains to come up with a healthy recipe . The word healthy to me relates to fruits and veggies . The next thing is wheat so instead of potato I substituted wheat bread , but has to be tasty also and the consistency should resemble potato . Soak the bread in water and squeeze out but taste again will be missing . Then I substituted water with salted butter milk . Followed the recipe as I do for normal fish cutlets but used egg whites instead of whole egg to dip the cutlets and rolled them in wheat bread crumbs seasoned with herbs , salt and pepper . Olive oil sprayed it and baked it . Worked wonders . Tasted so yum and was healthy too . Thanks grace Joseph to have asked me for a recipe as such . Other wise my brain is restricted towards diet recipes . (Not bad my brain is still alert and working a bit . )
Ingredients 
| Ingredients | Quantity |
| --- | --- |
| Fish | 1/4 kg boneless skin removed |
| wheat bread slices | 8 |
| salted butter milk | 2 1/2 cups |
| onion | 1 big chopped |
| green chillies | 1 chopped |
| coriander leaves | 1 tablespoon chopped |
| salt and pepper | to taste |
| garam masala powder | 1/4 teaspoon |
| olive oil | 1 teaspoon |
| chilli powder | 1/2 teaspoon |
| turmeric powder | 1/4 teaspoon |
| ginger garlic paste | 1/4 teaspoon each |
| wheat bread crumbs | 2 cups |
| Chilli flakes | 1 teaspoon |
| olive oil | spray |
| egg whites | 2 |
Method
Cook fish with salt to taste , turmeric powder , ginger garlic paste and little water . Cook to dry and shread the fish , keep aside .
Soak the wheat bread slices in salted butter milk and squeeze out the liquid and keep aside .
Heat a non stick kadai with olive oil , fry the onion and green chillies to translucent . Top with fish , chilli powder , pepper powder and salt to taste , garam masala powder . Sauté for a minute .
Add a squeeze of lime And coriander leaves . Mix well . Add the squeezed wheat bread slices and mix well till all the flavours and ingredients combine together . Remove from heat and set aside .
Mix chopped coriander leaves , chilli flakes and salt to taste to the wheat bread crumbs . Mix well . Beat egg withes wig salt and pepper to taste .
Make lemon size balls out of the fish wheat bread mixture . Dip the ball into egg whites and roll in wheat bread crumbs mixture . Shape into circles or desired shapes .
Do the same with the remaining . Place a foil paper on a baking tray , place the cutlets . Oil spray on both sides of cutlets and bake for 2 minutes on each side till crisp crusts are formed .
Serve hot with tomato ketchup .