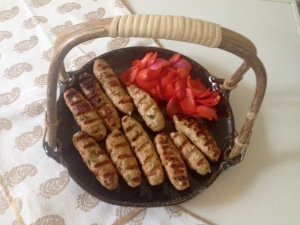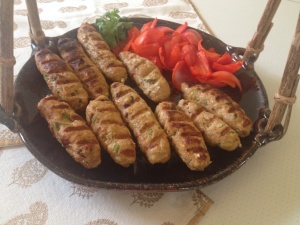 Preparation time : 30 minutes
Cooking time      : 10 minutes
Serves                : 8 members
Description
The first thing I always order when in an Indian restaurant would be a tandoori platter. I am a die hard fan of any thing done in a tandoor. The char grilled flavour it lends to any thing from meat, vegetable to rotis is Devine. The aroma and smoke it generates.. Specially when in a foreign country…. My heart melts and I get goose bumps for sure. I really am not aware of why this love I have towards tandoori dishes but it sure lights me up. I am adventurous enough to experiment and try a lot with dishes using the tandoor. This kebab was a try I did when I had my daughter visit us on a short break. She wanting to eat a less oil meal. I was amazed at how the flavours complimented each other so well and it sure gave our blah lunch table a pop of refreshing flavours. Mixing the old and new usually crests some thing edgy that compels you to sit up and take notice. These kind of dishes that could be easily rustled up at home are always welcome any day to celebrate in style. So gear up and get ready to dazzle your loved ones with this stunning tandoor invention.
| Ingredients | Quantity |
| --- | --- |
| Chicken mince | 1 kg |
| Butter to baste | 3 1/3 tablespoons |
| Cashew nut paste | 3 1/3 tablespoons |
| Panner grated | 3 1/3 tablespoon |
| Cumin powder | 2 teaspoons |
| Eggs whisked | 2 |
| Garam masala powder | 1 teaspoon |
| Garlic paste | 4 teaspoons |
| Ginger paste | 4 teaspoons |
| Green chillies | 3 teaspoons chopped finely |
| Green coriander leaves | 3 teaspoons chopped |
| Oil | 4 tablespoons |
| Onions | 3 1/3 tablespoons |
| Salt | to taste |
| White pepper powder | 1 teaspoon |
| Yellow chilli powder | 1 teaspoon ( I didn't use as it was not in stock at home ) |
Method
Mix minced chicken, cumin powder, white pepper powder, yellow chilli powder, salt and oil. Keep aside for fifteen minutes.
Add the cashew paste, Ginger paste, garlic paste, onions, green chillies, coriander greens, garam masala powder, grated panner and eggs. Mix well.
Divide the mixture into eight equal parts and make balls.
Pass the skewer through the balls of mince, moisten your hands and spread the balls by pressing each along the length of the skewers until they are 8-10 cm long and about 4 cm apart.(I just rolled up the chicken balls to small logs as I didn't have skewers)
Roast in a hot tandoor or oven at 175 degree Celsius for 8-10 minutes, basting with butter and roasting until lightly brown.
Serve with vinegar marinated onions as a starter.
Notes
The chicken mince mix might look too loose but it's supposed to be so as only then we get a moist and succulent kebabs.
The chicken mince is quite hard to handle, be patient and roll them to logs with greased hands and grill them.