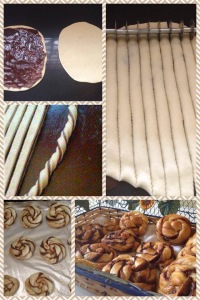 Preparation Time : 1 hour -30 minutes
Cooking Time : 20-30 minutes
Serving : 6-8 members
Description
Nutella sandwich curl buns . My daughter ANISHA had e- mailed me an collage of step by step picture of this bun . Looked so appealing to the eyes with excellence oozing out from every glimpse .  then and there wanted to give a try but with no recipe in hand just had to save the  picture .last morning , my daughter ANISHA started of saying she wants to try her hands in making these Nutella buns .( I feel so good about getting to name dishes :-))  )  I told her , with no recipe in hand how can we go ahead . then i remembered , A few days back I had made cater   pillar chicken stuffed buns . The bun was really soft and moist . So decided to follow the bun recipe from the cater pillar buns . ANISHA started of by measuring the ingredients and sieving the flour . From there onwards she disappeared and I had to do the rest to finish the buns . But finally she went around saying I made these Nutella sandwich curl buns . The pleasure and liberty these kids have with us parents is so joyful  to the heart and soul , no matter how old they grow . Hot Nutella sandwich curl buns out of the oven . I was surprised with the unpredictable , artistic out come of using a new simple technique by twisting and curling the sandwich strips which created magic . Served the buns warm and they were devoured in no time . Quite an elaborate and  lengthy   Recipe apt for a relaxed weekend cooking .
Ingredients
| Ingredients | Quantity |
| --- | --- |
| all-purpose flour | 2 cups |
| warm milk | ¾ cup |
| instant yeast | 1 teaspoon |
| baking powder | pinch |
| sugar | 1/2 teaspoon |
| salt | 1 teaspoon |
| egg | 1 (lightly beaten and divided in half) |
| melted butter | 1 tablespoon |
| oil | 2 tablespoon |
| milk powder | 1 tablespoon |
Method
Sieve the flour, then add milk powder, baking powder, sugar, yeast and salt. Then add the oil, butter and half the egg (reserve the other half for brushing the bread later) and mix together.
Now add the milk gradually whilst kneading. You might not need it all, so add it sparingly until your dough is nice and soft. If more milk is needed to get a soft dough consistency, warm a litte more and use.
Knead for a good 8-10 minutes. The more you knead the softer the bread results will be.Touch a bit of oil with your fingertips and apply all over the ball of dough.
Cover in a bowl and set aside for 40mins to an hour for it to double in size.Divide the dough into 2 equal sections. Start rolling each one into an oval/rectangular shape, about quarter inch or less thickness.
apply Nutella all around one rectangle evenly . Cover with the other rectangle and sandwich them together .cut the sandwich into equal strips about 1/4 inch each .
Twist each strip to get a curl and roll into a circle . Do the same with all the strips . keep covered with a wet damp cloth for 30 minutes . Brush with the remaining egg all around the surface of the buns .
Preheat an oven to 180 degree Celsius and bake for 20 – 30 minutes until the buns are cooked through and has a golden colour . remove from oven and brush with melted butter .
And keep covered in a damp wet cloth until needed to be served . Serve hot , warm or at room temperature .