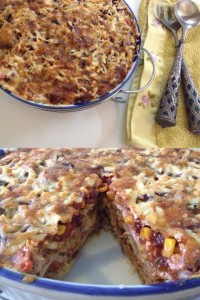 Preparation Time : 30 minutes
Cooking Time : 50 minutes
Serving : 8 movers
Description
Chappathi layered casserole . A dish I came up with left overs at home . Usually when ever I have my daughter and son – in – law home on a holiday . My refrigerator is over loaded with left overs  mainly because of my flaw of not knowing to cook in limited addition . I can't be blamed right away as when I was a beginner and learnt cooking from my mother – in – law , always had to cook in large because of the joint family system and number of members at home . ( Back to the dish please …. Oops … )one morning having no place to keep milk in the fridge , got wild and took out all the left overs and made up my mind to use everything and make a dish out of it . A sure fire solution for my left over problem . Had chapattis , chicken korma , ( previous day dinner left overs ) salsa , sweet corn and kidney beans ( left overs of the previous days taco Bar for breakfast  )all in one dish .. Umm … My mind just strait away went into a layered one pot casserole dish . The salsa had oozed out its juices from the mixed veggies , wanting to make it a thick spread . Thought of mixing curd but it will surely get more watery . So hung the curd and mixed with the salsa to get a creamy semi thick spread . Shredded the chicken from the bones in the korma and went ahead with my inner instincts and jazzed it up with cheese . Baked it and wolla  … A new dish that's sure a crowd pleasure to suit every occasion with a mildly crisp exterior and a yielding inside was created .  My job done , I fed  every one at home with this left over dish with nothing being wasted with a twist of rich textural variation and flavours .
Ingredients
| Ingredients | Quantity |
| --- | --- |
| Chapathis | 8 or more |
| chopped boneless cooked chicken | 3 cups |
| Oil | 1 tablespoon |
| Onion | 1 cup chopped |
| red pepper/ capsicum | 1/2 cup chopped |
| Kidney beans / Rajma beans | 2 cups boiled to a mushy texture |
| sweet corn kernels | 1 cup boiled |
| chilli powder | 1 teaspoon |
| salsa | 3 cups |
| hung curd | 1 1/2 cup |
| jalapeno | 1 1/2 cup |
| grated cheese | 1 1/2 cup |
| Coriander leaves | 1 tablespoons finely |
Ingredients for salsa
| Ingredients | quantity |
| --- | --- |
| Onions | 1 chopped |
| Green chillies | 3 or to taste chopped |
| Tomato | 4 to 5 chopped |
| Lime | 1/2 |
| Coriander leaves | 2 tablespoons chopped |
| Salt and pepper | to taste |
Method for salsa
First, using a sharp knife, chop the tomatoes into approximately ¼ inch (5 mm) dice straight into a serving bowl. Next, chop the chilli very finely before adding it to the tomatoes.
Add the onion, coriander and lime juice, and season with salt and freshly milled black pepper.Give everything a thorough mix, then cover and set aside .
Method for chapatti casserole
Preheat oven to 350. Grease  a casserole dish large enough to fit chapattis . Heat  oil in a sauteing pan,  saute onion and red pepper for 5 minutes, until softened. Mix in chili powder, remove from heat, stir in boiled rajma  beans and corn.
In another medium bowl, mix salsa and hung curd together . Layer chappathi first , then top with salsa mixture and sprinkle  chicken and jalapeno  over ,place a  chappathi again  , then the vegetables mixture and finally grated cheeses .
Repeat 4 times, or until you reach the top of the casserole.  Stop layering once you reach the top of your casserole dish and make sure to top with cheese finally .
Cover and bake for 25 minutes. Uncover and bake 10-15 minutes longer or until cheese is bubbly and browning.
Let stand for 10 minutes before serving. Sprinkle with chopped coriander leaves  and cut into wedges and serve hot .
Note
You can use parathas , Naans , rotis , tortillas or any form of bread or roti instead of chapattis .
I used left over chicken from the previous day korma . In case you like spicy food , feel free to spike the chicken up with chilli powder and more seasoning to your choice .
When mixing salsa with hung curd . Do not drain the water that has oozed out of the salsa . Mix it with the water , it helps to get a semi thick gravy consistency that leaves the chapattis moist even after baking .
Vegetarians omit the chicken and follow the same recipe for a veggie version.