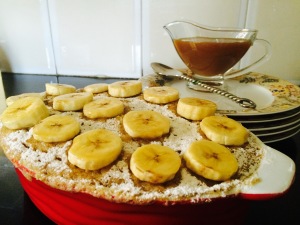 Preparation time  : 10 -12 minutes
Cooking time        : 8- 10 minutes
Serves                  : 5-6 members
Description 
Having a few really well ripened bananas in hand with a friend of mine coming to visit me for a brunch on the same day . Made up my mind to make a quick fix dessert using the bananas , did seem like a gamble .  Googled and got an easy microwave banana cake pudding recipe . Started Prepping and later found out that all the bananas were not in a condition to be used but as I started .. Wanted to finish the dessert . So brought another set of fresh ripe bananas and went ahead . Made the dessert following it to the core resulting with the entire house filled with a lovely aroma of bananas and cinnamon . My friend Lalitha went bonkers with this cake pudding that she had two helpings and made sure to pack a few along with her as well . The following week posted the brunch table pictures in all the foodie groups that I am a part of with the recipe and to my surprise Lalitha had made the banana cake pudding herself and posted a picture of it . I just love the opportunity to share my little knowledge of cooking and food to one another . You need not burn a hole in your pocket by visiting restaurants, instead just add more variety to home cooking unshackling your palate . This knock out home made version dessert is assured for a sure bet to scoop out every last bit of the wicked cake pudding that you will want to make again and again .
Ingredients for the cake
| Ingredients | Quantity |
| --- | --- |
| Butter | 100 grams + to grease |
| Sugar | 100 grams |
| Ground cinnamon powder | 2 teaspoons |
| Milk | 2 tablespoons |
| Ripe bananas | 3 |
| Self raising flour | 100 grams |
| Eggs | 2 |
| Icing sugar | to serve |
Method for cake
Microwave butter in a greased microwave safe bowl on high for 2 minutes .
Add 2 mashed bananas , sugar , self raising flour , cinnamon powder , eggs and milk to the butter and mix well .
Slice the remaining banana and place over in a decorative way as you wish .
Microwave on high for 5-8 minutes until cooked through and risen .
Check after five minutes as each microwave differs for doneness .
Remove and serve warm dusted with icing sugar and a good drizzle of caramel sauce .
Ingredients for caramel sauce
| Ingredients | Quantity |
| --- | --- |
| Butter | 1/4 cup |
| Cream | 1/4 cup |
| Brown sugar | 1 cup |
Method for caramel sauce 
In a microwave oven proof ramekin add the brown sugar, butter and cream .
place in the microwave for 20-30 seconds.
Remove and stir and repeat another two to three times depending on your microwave.
You will end up with a dark caramel sauce.
Drizzle over the banana cake pudding and enjoy .
Self raising flour ingredients
1 cup all-purpose flour       1/2 teaspoon salt            1 1/2 teaspoons baking powder
Method
Stir or sift together the flour, salt, and baking powder. self-rising flour is ready .