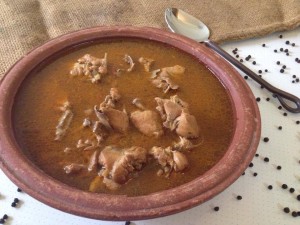 Preparation Time : 30 minutes
Cooking Time : 40 minutes
Serving : 6 – 8 members
Description
Country chicken or Nattu kozli kolambhu as its known in its original form . Two days back as usual was just surfing through all the foodie groups that I am a part of .  One post just got my full attention on home chefs guild as fami tha of salem had posted nattu kozli kolambhu picture with the recipe mentioning that it helped her kids heal their cold . Went through the recipe and just loved the rustic process of it with few simple, humble  ingredients transforming into a delicious one pot dish .  Took note immediately as I am having a terrible cold and cough . Tried it out last morning and had it with dosas .the kick of crushed pepper serves as a cold remedy here .  Felt much better once I had this kolambhu . Thanks fami tha to have shared this wonderful medicinal recipe that was tasty and a natural awakening to my cold that served me as my comfort food .
Ingredients
Ingredients

Quantity

Chicken-
1kg
Onions
2 (coarsely ground)
Garlic
2 full pods (coarsely ground)
Tomato
small 2 (coarsely ground)
Pepper
1 tablespoon
Coriander
leaves i closed handfull
(roughly grind pepper and coriander leaves together )
Curry masala powder
1/2 tablespoon
Coconut milk
1 cup
Water
1cup
Oil
1/2 tablespoon
Salt
as needed
Method
Grind the specified ingredients separately.Place cooker on flame.
Put the chicken in first and jus keep sauteing it for 1min till the water from the chicken dries up.Remove the chicken and keep aside.
Add oil in the cooker. Add ground onions and saute for 1min and then add ground garlic and saute for a min till the raw smell goes.
Add chicken and try incorporating the onion and garlic masala and chicken.
Add curry masala, tomato , ground pepper & coriander. Mix well. Add required salt and water and pressure cook until done.
Wait for the pressure to release and add coconut milk and cook it for 1min on low flame. Naatu kozhi kulambu ready.
Note
I substituted onions with small onion and omitted the dehydrating part of the chicken in the first step .
I pressured cooked the chicken for whistles on high flame and another 3 whistles on low flame .
Curry masala powder 
Coriander powder – 4 tablespoons
Red chilli powder -3 teaspoons
Cumin seed powder – 1 teaspoon
Fennel seed powder – 1 teaspoon
Garam masala powder -1/2 teaspoon
Mix all together for curry masala powder . Use as required and can store the rest in a clean air right container to be used for further use .