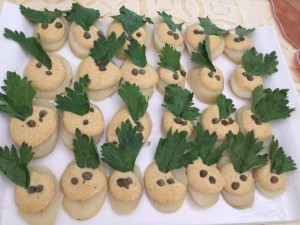 Preparation Time : 30 minutes
Cooking Time : 25 minutes
Serving : 5 – 6 members
Description
Cheesy potato canape . A Peruvian style cheese dip recipe that is served with tapioca finger chips . I came across this recipe in the telly on food safari program in fox traveller hosted by maeve o ' meara . One day was just flipping through a cook book and came across a recipe with the same cheesy dip used with potatoes and served as a canape by chef ritu Dalmia . Was wonder struck with her great idea of using this cheesy dip with potato rounds . Stored this idea in mind . In a few weeks time had my friend meera aboo thamby and her family come over for lunch at my place . Her hubby is a health freak and has a lot of salads , soups and proteins . Rice is a big no , no . ( you know about these NRI 'S ….. Oops no offence to any one ) so I had to cater to her hubby's needs as well . Planned to make four salads and the first one on my mind was the potato canape recipe that was stored in my mind . I followed ritu dalmias recipe and ended up resulting in a very runny sauce instead of a creamy one . Had to use more feta and salted biscuits than demanded in the recipe . Compared this recipe with the food safaris and found out that I had to use evaporated milk but ritu Dalmia had mentioned just milk and that to one cup . I guess that's what made my sauce runny . So I have substituted milk with cream here . The entire world revolves around with borrowed , tweaked , followed and inspired recipes with their own twist.
Ingredients
| Ingredients | Quantity |
| --- | --- |
| Oil | 1 tablespoon |
| Yellow bell pepper/ yellow capsicum | 1 chopped |
| Onion | 1 chopped |
| Garlic | 2 flakes |
| Green chilies | 2 chopped |
| Feta cheese | 100 grams |
| Cream | 2 tablespoon |
| Salted biscuits | 6 to 8 ,( I used Monaco biscuits ) |
| Salt and pepper | to taste |
| Potatoes | 4 boiled , peeled and sliced into 1/2 centimeter thick slices |
| Cappers | 1 tablespoon |
| Celery leaves | few |
Method
Heat oil in a frying pan . Saute yellow bell pepper , onion , garlic and green chillies until soft .
Cool completely . Put this mixture in a blender along with feta cheese , cream , biscuits , salt and pepper .
Blend to get a thick creamy sauce . Season the potato slices with very little salt .
Lay the potatoes in a single layer on a flat platter and top them with the cheese sauce .
Garnish with capers and celery leaves . Serve at room temperature .