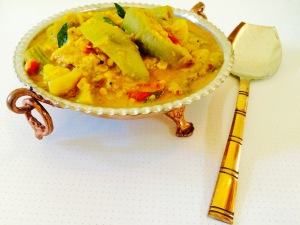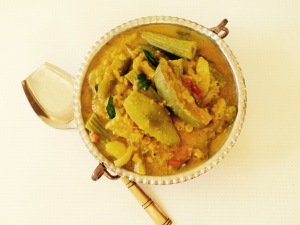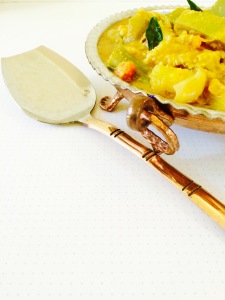 Preparation time : 15 minutes
Cooking time      : 25 minutes
Serves                : 4 members

Description
The word dalcha and the dish by itself is originally very own to Hyderabad cuisine. I have no idea as how this mighty dalcha landed up in all ravuthar (Tamil Muslim) homes as a must side dish for biriyani. The ravuthar's of the southern districts of tamilnadu are unique, sharing similarities with Sri Lankan cuisine and using un usual ingredients like pandan leaves, dried tuna, poppy seeds, urugai or whole limes that are pickled in salt and used in various preparations. Each district and home have their own variations of the dalcha with slight change of the use of vegetable combination with mutton bones + fat + dal. This recipe is that I learnt from my mother-in-law which is a like through out the tirunelveli region. The dalcha recipe, allows the true characters of the vegetables used to shine, resulting in a creation far greater than the sum of their parts. There is no better way than to rely back to our roots and cook the old school way. I remember, in a wedding reception of one cousin bother in the family where the groom was ravuthar and the bride a mappla (malayali Muslim). We were served a grand malabar feast with layered biriyani. All the old women were shouting out loud asking for dalcha saying, the biriyani is shocking us.. Get us some dalcha. The rest of us around were all giggles as the ravuthar's just can't have biriyani with out their dalcha. True blue old haunts we are. I instantly sensed the gap in understanding food from place to place. yet again more to know, more to learn and more to understand as always.
| Ingredients | Quantity |
| --- | --- |
| Yellow split peas / Toovar dal | 1 cup |
| Bengal gram ( Kadala paruppu) | 3/4 cup |
| Oil | 1 teaspoon |
| Mutton bones + fat | 100 grams |
| Turmeric powder | 1/4 teaspoon |
| Ginger paste | 1/4 teaspoon |
| Garlic paste | 1/4 teaspoon |
| Egg plants | 1/4 kg each cut into 4 slices |
| Drum stick | 1 cut into finger length pieces |
| Yellow pumpkin | 1 slice cut into cubes |
| Raw mango peeled | 1 , cheeks cut into long thick pieces + seed |
| Big Onion | 1 sliced |
| Small onions | one hand crushed |
| Green chillies | 6 |
| Tomatoes | 2 medium sized chopped |
| Coriander leaves | 2 tablespoons chopped |
| Salt | to taste |
| Red chilly powder | 1 teaspoon |
| Turmeric powder | 1/4 teaspoon |
| Cumin powder | 1/2 teaspoon |
| Fennel powder | 1/2 teaspoon |
| Coriander powder | 1 teaspoon |
| Tamarind pulp | 4 tablespoons or to taste |
| Coconut paste | 5 tablespoons |
Ingredients to temper
| Ingredients | Quantity |
| --- | --- |
| Gingely oil | 2 tablespoons |
| Mustard seeds | 1 teaspoon |
| Fenugreek seeds | 1/4 teaspoon |
| Cumin seeds | 1/4 teaspoon |
| White urad dal | 1 teaspoon |
| Curry leaves | 1 tablespoon |
| Small onions | 1/2 hand chopped |
| Ginger garlic paste | 1/4 teaspoon each |
Method
Heat a small pan with one teaspoon of oil. Add ginger and garlic paste. Sauté to crisp and golden. Top with the cleaned mutton bones and fat. Stir well for a minute or so until the colour of the bones and fag change. Remove from heat and keep is aside.
Pressure cook both the dals, the sautéed mutton bones + fat and turmeric powder with just enough water to well cooked. About 2-3 whistles. Open the pressure cooker only after the pressure in the whistle subsides.
In a large pot, mix the cut egg plants, drum stick, yellow pumpkin, raw mango, big onion slices, small onion crushed, slit green chillies, tomatoes, coriander leaves, salt to taste, red chilli powder, cumin powder, fennel powder, coriander powder. Mix well. Add just enough water to boil the mixed vegetables and cook to 3/4 done.
Add tamarind pulp and cook the vegetables to done. Drain excess water from the pressure cooked dal. Mash the pressure cooked dal and bones with the bake of a big spatula to smooth. Add it to the cooked vegetables. Mix well. Add coconut paste and bring to boil.
Check seasoning for salt, sourness and chilli. All the three must be more than required as only then when tempered. The dalcha tastes correct.
Heat the oil,add fenugreek seeds, mustard seeds, urad dal and cumin seeds. Once they crackle. Add the curry leaves and small onions. Once the small onions are golden. Add the ginger and garlic paste. Sauté to brown and crisp. Pour over the pot of dalcha.
Immediately pour a ladle of dalcha into the tempered hot vessel and swirl getting in all the flavours of the tempered pot into the dalcha. Pour into the dalcha pot and mix well.
Serve hot along with biriyani, ghee rice (nei choru) or coconut milk rice (thenga choru) as a side dish.