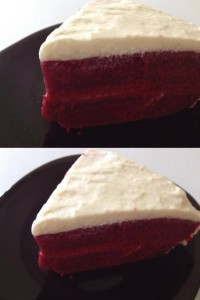 Preparation Time : 30 minutes
Cooking Time : 30 – 35 minutes
Serving : 8 members
Description 
Red velvet cake . A recipe that has been in my must try list for a very long time . I waited to get the right food colouring as I wanted a deep red colour to my cake . The food colour was sourced from Malaysia through my mom . It was the day after Father's Day . My parents were here till lunch and were leaving there after . Wanted to surprise my dad with this red velvet cake as he loves cakes , desserts and pastries . even though it was a day after Father's Day as its better late than never , Started of with the cake with my daughter ANISHA beside me . Not having  two equal sized cake tins . Went ahead by baking the entire cake mix in one big cake tin thinking I shall cut through horizontally and sandwich with cream cheese icing in between . But I didn't get the height that I expected after the cake was baked . So finally what I did was cut the cake into two equal semi circles . Not having enough time to cool them completely as my parents were about to leave in some time . I started applying the cream cheese in between the cakes . It looked good and to the level of 1/4 inch of cream cheese icing as I  wanted but after a while the 1/4 inch was all sucked into the cakes and became a white lining in between . Then my cream cheese icing started giving me trouble as it was extremely hot here then . Had to freeze the icing very frequently to keep the required consistency as wanted . Some how made the cake , managed to take pictures ( took a picture of the semi circle but looked odd so stuck to this one wedged slice ) served it to dad and the smile he had while eating it just threw away all the havoc I had to go through to get   the cake together . My kids were signalling to my hubby and my mom about how my dad was enjoying his red velvet cake and making fun of the love between  me and my dad ( we daughters are always daddies girls isn't it ? ) Mom, as usual was just controlling dads intake of this calorie culprit.I was over whelmed with joy that my job was done , serving dad his favourite   piece of cake made with love . I did manage and pack some with my parents. The left over was served to all of us at home , my hubby's niece alfina, her kid zahil and nephews Rabbani and Mohamed Zahil just didn't want his mom alfina to stop feeding him and to add upon to all this the last two pieces were served to my sons friend morishal 's parents who had dropped in home as a surprise visit after a wedding reception attended at my place . A semi circle red velvet cake served to this many people was the biggest surprise to me !!!
Ingredients
| Ingredients | Quantity |
| --- | --- |
| All purpose flour / maida | 1 cup |
| Corn flour | 2 tablespoons |
Method
Remove 2 tablespoons of flour from 1 cup flour and replace it with 2 tablespoons of corn flour .
Sift together three times and use as demanded in the recipe .
For this recipe I used 2 1/2 cups all purpose flour / maida .
Removed 5 tablespoons of flour and replaced it with corn flour .
Always measure after shifting the both the flours together .
Ingredients for the cake 
| Ingredients | Quantity |
| --- | --- |
| Unsalted butter | to grease same sized cake pans |
| cake flour(not self-rising) | 2 1/2 cups |
| salt | 1 teaspoon |
| cocoa powder | 1/4 cup |
| sugar | 1 1/2 cups |
| canola oil | 1 1/2 cups ( I used sunflower oil instead ) |
| large eggs | 2 at room temperature |
| red food colouring | 1/4 cup |
| pure vanilla extract | 1 teaspoon |
| buttermilk | 1 cup |
| baking soda | 1 1/2 teaspoons |
| white vinegar | 2 teaspoons |
Method for the cake
Heat oven to 350 degrees. Generously butter two 9-by-2-inch round cake pans. Sprinkle with flour, and tap out the excess; set aside.
In a medium bowl, whisk cake flour, salt, and cocoa; set aside.In the bowl of an electric mixer fitted with the paddle attachment, combine the sugar and oil, and beat on medium speed until well combined.
Add eggs, one at a time, beating well after each addition. Add food colouring and vanilla, beat until well combined.
Add flour mixture, alternating with buttermilk, scraping the sides of the bowl with a rubber spatula as needed.
In a small bowl, mix baking soda and vinegar until combined. Add to batter, and beat for 10 seconds. Evenly divide batter between the prepared pans.
Bake until a cake tester inserted in the center Of each cake comes out clean, 30 to 35 minutes. Transfer to a wire rack to cool in the pans for 5 minutes.
Remove from the pans, and return to the rack to cool completely.  Allow cakes to cool completely before icing.
Cream cheese icing  ingredients
| ingredients | Quantity |
| --- | --- |
| cream cheese, softened | 450 grams |
| unsalted butter, softened | 120 grams |
| vanilla extract | 1 teaspoon |
| icing sugar, sifted | 2 1/2 cups |
| salt | a pinch |
Icing method 
With an electric mixer, blend together cream cheese and butter until smooth.
Reduce speed to low, and blend in icing sugar, salt and vanilla extract. Increase speed to high, and beat until light and fluffy.
How to proceed
Apply a thick layer of cream cheese  icing on top of one cooled cake .
Place another cooled cake over and sandwich together .
Apply the remaining cream cheese icing all around and on top of the cake evenly  .
Cut into equal size wedges and serve .
Notes 
Make sure you use cake flour not self raising flour for the cake .
Make sure all the ingredients for the cake are at room temperature .
Place the cream cheese icing in the fridge until needed to be used as the icing tends to loose its firmness in hot weather .
Store the cake in the fridge and it stays fresh for 3-4 days .
The brand name of the red food colour that i have used is rayner's red concentrated food colouring .
Be careful with the red food colouring as it stains the cloths you wear as well as your kitchen counter .