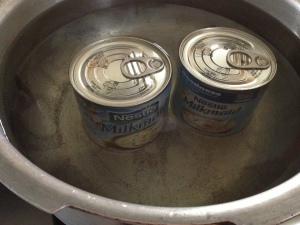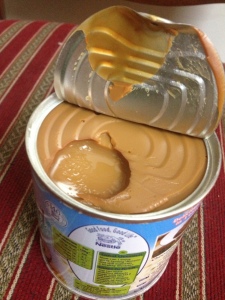 Preparation Time : nil
Cooking Time : 40 minutes
Serving : as required
Description
Dulce de leche . Till date I really don't know the real pronunciation of this South American word .  Well it's nothing but an American confection prepared by slowly heating sweetened milk to create a substance that derives its taste from the Maillard reaction, changing flavor and colour . Literally translated and it means "candy of milk" or "candy [made] of milk", "milk candy", or "milk jam" . I first got to know about this deadly ingredient when I came across a recipe of a brownie that used dulce de leche in them . Loving the marble effect on top of these brownies did take note of the recipe . Wanting to give it a try had to make dulce de leche . Was so nervous and scared to pressure cook a tin of condensed milk . Went ahead and it worked perfect resulting in a caramel coloured mass of sweet . As it takes a while to cook and cool down before wanting to use it as an ingredient , after my first try I always make it in a batch of two or three tins together and make sure to get the dolce de leche done a day before so it's handy and convenient . The left over dulce  de leche can be stored in the refrigerator until needed for next time . This magical ingredient is used in cheese cakes , cakes , puddings , Banoffe pies , tarts , ice creams and so many other desserts . You just have to be more creative to use this ingredient as it tastes good as it is .so gear up peeps to add a hell lot more of calories with this fatty Devine culprit .
Ingredients
| Ingredients | Quantity |
| --- | --- |
| Condensed milk | 1 tin |
| Water | enough to cover the tins |
Method
Place a flat round pressure cooker with condensed milk tin in the Centre  . Pour water just up to the top of the condensed milk tin .
Make sure the condensed milk tin is immersed in water well . Place over heat . Cover and pressure cook over medium heat for 40 minutes .
Remove from flame and wait for the whistle heat to subside . Then open the pressure cooker lid and cool completely .
Remove condensed milk tin from the cooled water . The condensed milk tin might be a bit hot still .
So set aside to cool completely and then open the condensed milk tin . Your home made dulce de leche is ready to be devoured .
Notes
Make sure the water is just above the condensed milk tin and the condensed milk tin is immersed in water well before pressure cooking .
Cool cooked condensed milk tin well and then open .
I usually made these a day ahead when required to save time .
When making it's better to make a set of two or three and store in the fridge so it's handy to use when pressed for time .