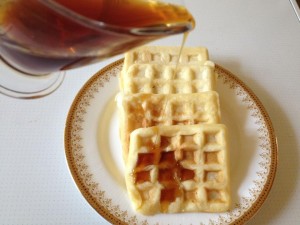 Preparation Time : 10 minutes
Cooking Time : 15 minutes
Serving : 4 to 6 members
Description
A waffle is a batter-based or dough-based cake cooked in a waffle iron patterned to get a characteristic size,shape and surface impression. There are many variations based on the type of iron and recipe used, with over a dozen regional varities throughout the world, particularly in Belgium, France, Netherlands, Scandinavia and the United states. This recipe is a basic recipe of the waffles served with honey. My sandwhich toaster at home was out of order, so had to get one instead. Went on a holiday to Bangalore and while shopping the sandwhich Toaster was there in my mind. I was spoilt of choices and confused. Finally stuck my mind to the morphy Richards one as it came with detachable waffles mould (been wanting to get one for a very long time), sandwhich toaster and a grill. Was super excited and grabbed it.Wanting to make waffles with my new morphy Richards but not knowing the recipe was the next problem. My daughter ANISHA helped me get an easy recipe from the net as i was so dum then with anything related to the internet (even now can call myself dum as all these electronic gadgets confuse me a lot)tried out waffles and wolla worked pitch perfect. Now waffles are a regular at my breakfast table.
Ingredients
| Ingredients | Quantity |
| --- | --- |
| all-purpose flour | 2 cups |
| salt | 1 teaspoon |
| baking powder | 4 teaspoons |
| white sugar | 2 tablespoons |
| eggs | 2 |
| warm milk | 1 1/2 cups |
| butter, melted | 1/3 cup |
| vanilla extract | 1 teaspoon |
Method
In a large bowl, mix together flour, salt, baking powder and sugar; set aside. Preheat waffle iron to desired temperature.
In a separate bowl, beat the eggs. Stir in the milk, butter and vanilla. Pour the milk mixture into the flour mixture; beat until blended.
Ladle the batter into a preheated waffle iron. Cook the waffles until golden and crisp. Serve immediately with a drizzle of honey .
Can be served with chocolate sauce , Nutella spread , strawberry syrup , sliced bananas , strawberries , mango sauce or ice cream .