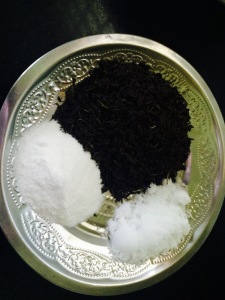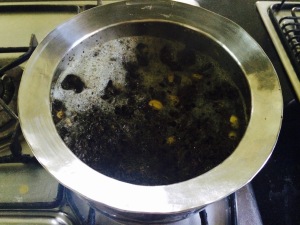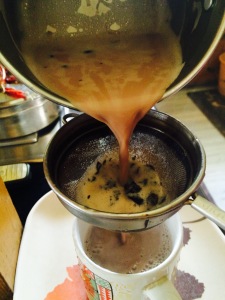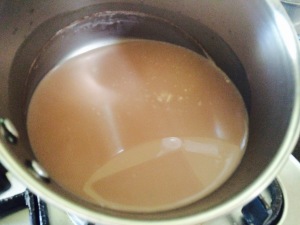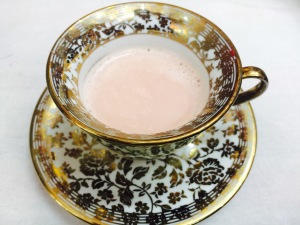 Preparation time : 5 minutes
Cooking time       : 45-50 minutes
Serves                  : 2-3 members

Description
Kashmir…. I always remember seeing this place in my parents honeymoon pictures… Resulting with me being born there after ….every third person there did mention saying I look like a Kashmiri which made me blush for sure as to me kashimiris are the best looking people on earth. Those days of watching doordharshan programs as a kid. I remember watching a documentary where they showed how a meat based dish was made in Kashmir with a white thin butter milk based gravy but the name of the dish didn't register in my mind. I got to by heart the name just recently. All I knew about Kashmiri cuisine was just that and later the rogan josh and dum aloo. It was a dream come true to visit Kashmir for me. On one tedious day while traveling to gulmargh from Sri nagar we stopped for tea. Me not being a tea person just was wondering around the place. My son-in-law enquire if they serve noon chai. I was like.. What's that? He explained to me saying its a salty tea that's made only in Kashmir and Ladakh. The foodie in me just wanted to give a try and I ordered one too. The first sip I took.. Just hit the right spot and was very much to my liking, like a light watery soup. From then on the entire week I drank only noon chai in Kashmir where ever I went getting me addicted to it with each place having its own version with slight changes of the same chai. The Kashmiri guide did mention saying that noon chai helps to give a glow to the skin. Do I need any more reasons not to get addicted to this noon chai!!
Made sure to get the chai dust and here I am in the opposite tip of Kashmir, near kanyakumari sipping away noon chai soothing my soul every now and then like the Kashmiris do…


| Indgredients | Quantity |
| --- | --- |
| Green tea leaves | 2 tablespoons (authentically a special tea leaf is used but green tea is close to it as well) |
| Cardamom | 5 pods crushed |
| Salt | 1 teaspoon |
| Soda salt | 1 teaspoon |
| Cinnamon | 1 inch stick |
| Star anise | 1 |
| Milk | 2 cups |
| Sugar | 1 tablespoons |
| Pistachios | 5 peeled and chopped |
| Almonds | 2 peeled and chopped |
| Water | 2 cups |
Method
Heat 2 cups of water and bring to boil. Add cardamom, cinnamon and star anise. Boil for two minutes.
Add the green tea leaves, salt, sugar and soda salt. (be careful while adding the Soda salt as the water arises and over flows out of the pot).
Boil in low flame for 30-40 minutes.
Add milk and bring to boil. Strain. Serve hot with chopped nuts.

Notes
I always follow the recipe up to the third point in large amounts. Cool completely and store in the refrigerator for a month or so. When needed I add milk and boil. This way it's more easy.