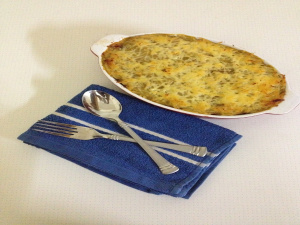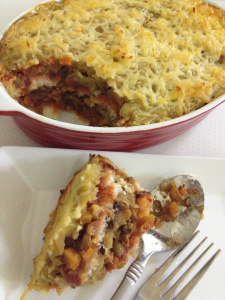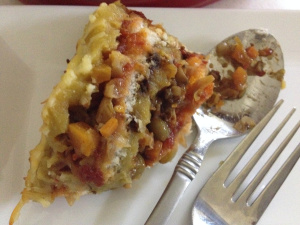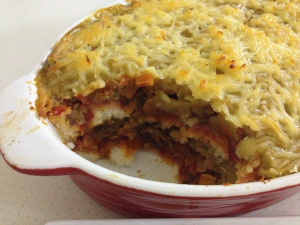 Preparation Time : 20 minutes
Cooking Time : 40 minutes
Serving : 8 members
Description
Having nearly half of the previous night vegetable soup and sautéed vegetable filling that was used for sandwiches . I was left to deal with re creating another dish with the Left over's but with out a sign of its own previous version . The best that came to my mind at that moment being pressed for time as well was to come up with a one pot baked dish . Thought of mixing all together and just baking it with a dash of grated cheese . Some how felt it might taste the same as soup and sandwich . Revised in my mind about all the baked dishes I know and when lasagne came , the bulb moment happened . Went ahead but now the problem being my soup was too runny . Thickened it with cornflour and made a custard like sauce . Spiked the left over sandwich sautéed vegetable filling with some dried herbs . Layered them and baked it . In the dining table hubby dear was talking about hosting a feast for his friends with the best dishes I know as having his dinner . He was like , add this also to the menu as it tastes Devine . I wanted to burst out laughing but kept my cool and just nodded . Hubby dear made sure to send little to his friend Dr. Basker and his parents next door . Confused me with left overs sent around had no choice other than to keep quite as the secret of left overs will be out . Once hubby dear finished his dinner , my boy whispered to me saying "  i know this is last nights vegetable soup and sandwich filling, but ma – you are a genius in fooling people through food . " happy me for two reasons . One I got to execute left over in style and two my boy does have a good sense of things happening around with out being mocked .In total it was madness with left overs , letting me enjoy and experiment with my own twist . After all to me , cooking isn't merely about fresh ingredients , knife skills or even skill full presentation . It is deeply philosophical and if there is no purpose or individuality to inspire with love then it isn't cooking for sure .
Ingredients
| Ingredients | Quantity |
| --- | --- |
| Bread | 10 to 12 slices |
| Instant soup packet | 1 |
| Ready made Pizza sauce/ tomato sauce | 1 cup |
| Vegetables | ( carrots , beans , cabbage , cauliflower , capsicum and green peas) - 3 cups chopped |
| Olive oil | 1tablespoon |
| Garlic flakes | 2 crushed |
| Dried herbs | (oregano , thyme , basil ) - 1/4 teaspoon each |
| Chilli flakes | to taste |
| Salt | to taste |
| Butter | 1 tablespoon + to grease |
| Grated cheese | 1/4 cup |
Method
Heat olive oil . Add crushed garlic , chopped vegetables dried herbs , chilli flakes and salt to taste . Sauté until the vegetables are 3/4 cooked and crunchy .
Prepare soup according to packet instructions but add 1/2 the amount of water mentioned to get a thick custard like consistency , gooey sauce .
Apply pizza or tomato sauce to the bread slices .
Grease a casserole baking dish with butter all around and bottom well . Layer with bread slices , then the veggie filling , top with soup custard , garnish with Grated cheese .
Do the same up to the top of the casserole dish . Grate cheese as the final top layer . Place butter bits all over the top and bake in a pre heated oven at 180 degree Celsius for 20 minutes until the cheese melts to a golden colour crust and bubbles .
Remove from oven , cool a bit for 5 minutes and serve hot . Yummy yum .
Notes
Can do the same with any left overs substituting bread with chapathis , rotis , naans . Any filling of choice ( left over non veg gravy , subji , poriyal )
Instead of soup ( dal , white sauce , pasta sauce , left over curries ) Instead of cheese ( grated paneer , mashed potatoes