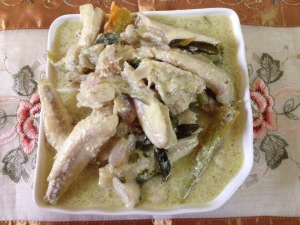 Preparation Time : 20 minutes
Cooking Time : 15 – 20 minutes
Serving : 3-4 members
Description
Meen paal curry is an authentic dish of the tirunelveli region . This same dish is addressed in different names by the neighbouring districts as meen Aviyal in nagarkovil and as meen sothi in tirunelveli by the Hindu communities . Meen paal curry is a common name among the Muslim community of the Tirunelveli region . Every community and region has a  slight variation of their own to this dish but the main ingredients being fish , coconut milk and lime . I first got to taste this dish at my father – in – laws elder brothers place . Mumthama ( my father – in – laws elder brothers wife )    is an excellent cook and there are so many dishes that I learnt from her , including this dish . This dish is lightly spiced with the coconut milk flavour being the most dominant along with tartness of the lime . From the time I learnt to make this dish , I make it a point to make this dish when I have guests at home ( mainly mom's side guests ) . My cousin brother moheen and his wife zuvariya  were here for a day when they were newly wedded , moheen was head over heels with this dish and he did ask zuveriya to take note of the recipe . These every day home style preparations interests  me a lot . Traditional  recipes , in particular that offer insights into communities that devise them and yield secrets about people's past . The magic of Indian home cooking that can not be eaten at restaurants are treasured gifts from our ancestors .
Ingredients
| Ingredients | Quantity |
| --- | --- |
| Cleaned fish | 1/4 kg , ( I have used anchovy / nethili here , you can use any other fish ) |
| First extract of coconut milk ( thick ) | 1 cup |
| Third extract of coconut milk ( very thin ) or water | 1 cup |
| Coconut oil | 4 tablespoons |
| Cumin seeds | 1 teaspoon |
| Fenugreek seeds | 1/4 teaspoon |
| Ginger grated | 1/4 teaspoon |
| Small Onions | 1 hand full chopped |
| Green chillies | 8 to 10 slit |
| Curry leaves | few |
| Salt | to taste |
| Lime juice | 2 tablespoon or to taste |
| Coriander leaves chopped | few to garnish |
Method
Heat coconut oil in a board kadai . Add fenugreek seeds , cumin seeds and curry leaves . Once the fenugreek seeds crackle top with green chillies .
Sauté For a few seconds until the flavour of the green chilli arises and colour changes .Top with ginger and onions . Once the onions are translucent pour the third extract of coconut milk ( very thin ) or water and mix well .
Bring to boil and add the fish with salt to taste and cook until fish is cooked 3/4 cooked .Add the thick coconut milk . Mix well adding lime juice . Taste and adjust seasoning .
Top with chopped coriander leaves . Simmer until oil separates and floats on top . Serve hot as a side dish along with white boiled rice or with appams .
Notes
make sure the thin extract of the coconut milk is very thin or else the curry tends to split .
To be on the safer side use water .Add more green chillies in case you want a more spicy curry .