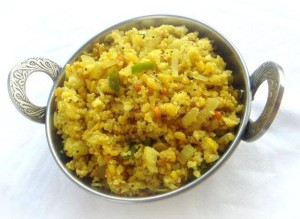 Preparation Time : 15 minutes
Cooking Time : 10 minutes
Serving: 2 members
Description 
Idli upma . Upma is one dish I hate …. But I do crave a lot for the upma's that were served to us in good shepherd public school (ooty )on Sunday mornings along with masala omelet . I used to fill the omelet with the upma inside , roll it and eat it like a katti roll . This idli upma recipe I learnt from one of my cooks at my in – laws place Which is a fast , clever , easy and time saving one pot dish . A genius quick fix with left over idlis at home . The high light of this recipe is the lime added which gives an oomph factor , Resulting deliciously tart . This dish did wonders when I had to pack lunch for my kids to school . It was my go – to quick fix when pressed for time . My daughter ANISHA is a die heart fan of this idli upma . She ends up asking for this idli upma very often which is a staple that's adapted to suit the brew available .  upma
Ingredients
| Ingredients | Quantity |
| --- | --- |
| Left over idli | 6 |
| Big onion | 1 chopped |
| small onion | 10 chopped |
| Green chilli | 1 chopped |
| Ginger | 1/4 inch piece grated |
| Salt | as needed |
| Cooking oil | 1 tablespoon |
| Mustard seeds | 1 teaspoon |
| Urad dal | 1 teaspoon |
| Channa dal | 1 teaspoon |
| Dry Red chillies | 2 each torn into two |
| Curry leaves | 1 strand |
| Asafoetida | a pinch |
| Lime juice | 1/2 a lime |
| Turmeric powder | 1/4 teaspoon |
Method
Dip the idlis in salted water for 5-6 seconds . Remove and Crumble the idlies well and set aside.heat oil in a non – stick kadai .
Add mustard seeds , urad dal , channa dal ,torn dry red chillies and curry leaves .
Once the mustard seeds crackle top with hing , onions , grated ginger and green chillies .Once the onions turn translucent add turmeric powder and lime juice .
Saute for 10 seconds and top with the crumbled idlis and toss well in a very low heat .
Making sure the yellow colour Coates well all around the crumbled idlis and the flavours infuse together .
Garnish with chopped coriander leaves and serve hot .
Note
You can avoid the turmeric powder and lime juice following the same recipe to get a white color bland idli upma .
You can add a sprinkle of idli podi ( powder ) to add more flavour to the idli upma .
At times even the left over vegetable poriyals ( sabzis ) are also added to the idli upma . ( My favorite is potato fry to be added )