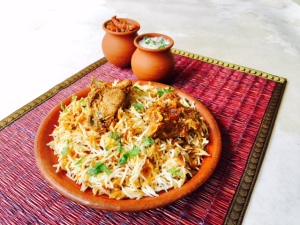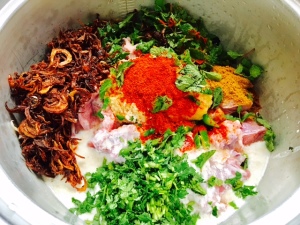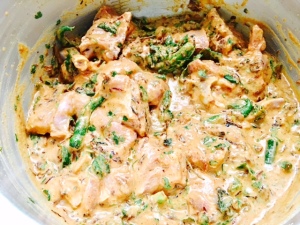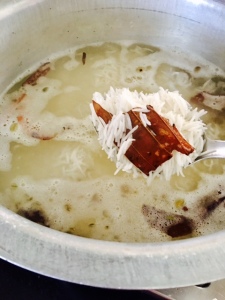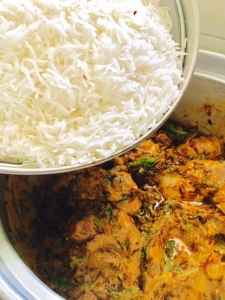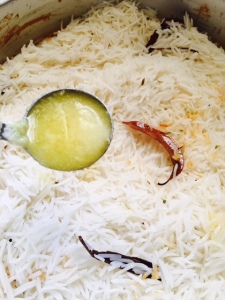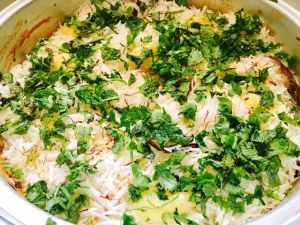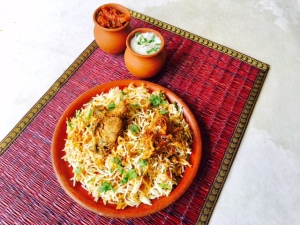 Hyderabad mutton dum biriyani
Preparation time : 40 minutes
Cooking time      : 40 minutes
Serves                : 8 -10 members
Description:
I am Glued to the television show planet food where host Padma Lakshmi is keenly enquiring chef mahboob Alam khane about how the Hyderabad biriyani is made. I watch the entire episode saving it in my mind and taking note of the recipe as well. I try the recipe the following week end at home. My kids and myself loved it but hubby dear being a hard core fan of his mother's biriyani considers any other version of a biriyani as a fake one. My children busy in their own way and demands of them to stay out of station for educational purpose just made the Hyderabad biriyani fade away from my regulars at home. Now that, I have my son back home as a permanent member it's time to rekindle all the long lost faded dishes there were kept out of the kitchen. I started with all the prep work along with my cook who is always very curious about any thing new I do. As I started to layer the marinated meat and rice, my cook kept asking me" amma, how will this meat cook. I am sure this entire biriyani is going to be a flop show."
I just smiled at her and went ahead. Once the biriyani was done as always my cook gets to taste it first to check seasoning. She made sure to see if the meat was cooked. She was so surprised about this method and on how tender the meat was with the rice flavoured mildly complimenting each other so well. Being with me on all my kitchen experiments, she's become another version of me. I guess with my recipes being shared with you all, there are many more version's of myself through out the world.
Ingredients
| Ingredients | Quantity |
| --- | --- |
| Basmathi rice | 1 kg ( washed and soaked in water for one hour ) |
| Mutton with bones | 1 kg cut into big pieces |
| Onions | 4 sliced |
| Green chillies | 2 slit |
| Ginger and garlic paste | 1 teaspoon each |
| Curd | 1 cup |
| Red chilly powder | 1 teaspoon |
| Coriander powder | 1 teaspoon |
| Bay leaf | 1 |
| Cardamom + cloves + cinnamon | 2 each |
| fennel seeds | 1 teaspoon |
| Cumin seeds | 1 teaspoon |
| Mint leaves + coriander leaves | one handful each |
| Saffron | 1/4 teaspoon soaked in 1/4 cups of warm milk |
| Ghee | 1/2 cup |
| Oil | 2 teaspoons |
| Salt | to taste |
Method:
Heat ghee and deep fry the sliced onions to crisp and golden. Strain and set aside.
Mix cleaned mutton, deep fried onions, green chillies, curd, ginger and garlic paste, red chilly powder, coriander powder, salt  to taste, half of the coriander leaves and half of the mint leaves together and Marinate for two hours.
Boil 2 litters of water adding 2 teaspoons of oil, salt to taste, cinnamon, cardamom, cloves, fennel seeds, cumin seeds and bay leaf. Add soaked and drained rice and bring to boil for a minute. Drain the rice and keep aside.
 In a wide mouthed, heavy bottomed vessel lay the bottom with the soaked mutton mix. Top with the boiled and drained rice spreading it evenly. Sprinkle the remaining mint leaves and coriander leaves. Pour 2 tablespoons of the onion deep fried ghee all around. Pour the soaked saffron with the milk all around.
Close with a lid and cook on medium high heat for ten minutes.
Then lower the flame to sim and cook further for another ten minutes. Then place a iron griddle ( dosa tawa ) over the flame. Place the vessel with the biriyani with lid over the iron griddle. Place a heavy vessel with water filled in it over the lid. Cook further in low flame for thirty minutes. Switch off the flame and leave the biriyani un disturbed for another ten minutes.
Toss the biriyani making sure to mix the mutton gravy and rice with out breaking the rice grains. Serve hot with mirchi ka salan and dhahi ki chutney ( onion raitha ).